Lola Rykiel's Family Jewels
The style icon shares a few of her favorite gems.
---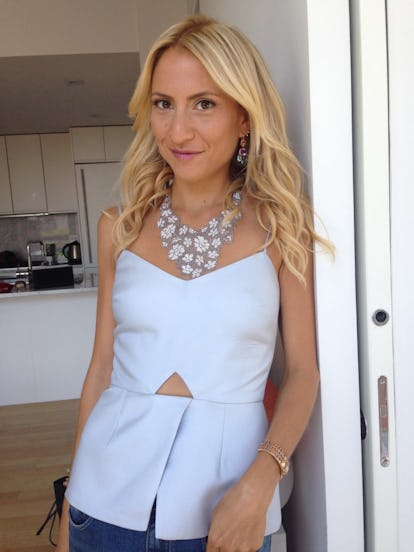 Lola Rykiel always stands out. Aside from her boundless energy and lively personality, you can't help but notice her amazing jewelry and great eye. Here, the she shares a few of her favorite pieces and the best advice she got from her mother.
Do you remember the first piece of jewelry you bought/received? It was a little diamond necklace from Tiffany that my grandmother Joan Burstein gave me for my birthday when I was 8 or 9 years old.
What jewelry is part of your "daily uniform", the piece you can't leave the house without? A vintage Art deco diamond ring my mother bought me in Jaipur for my 21st birthday. If I only have to wear one thing, it would be this. I think it is simple, but interesting and I feel uncomfortable taking it off.
If you could buy any piece of contemporary jewelry, what would it be? A DeGrisogono ring I spotted with pink tourmalines, emeralds and diamonds. It is super big and intense! I love colorful stones and statement pieces, plus it would look so beautiful with a summer tan.
What is your most sentimental piece of jewelry and tell us the story behind it? My Marie-Helene de Taillac rings. My mother and grandmothers have been wearing them also for as long as I can remember. It's a really special thing in my family. Her stones are so simple and beautiful and her style is timeless but still eccentric!
Who is your jewelry style "crush"? I have a lot—and I go through phases too! I adore Sara Beltran, Aurélie Biderman and Natasha Collis. All young talented women who have such different aesthetics and great visions.
What is the best piece of advice your mother gave you? To be more careful. When I was 6 years old and secretly trying on her jewelry, I lost her engagement ring. I think she is still mad.