The East Enders
They go by names like Thom Ticklemouse, Feral Bojangles, and Rowdy Superstar and wear Mickey Mouse ears, feathers, and a kaleidoscope of colors. Ted Polhemus celebrates the kids who are keeping alive London's illustrious tradition of eccentric self-invention.
---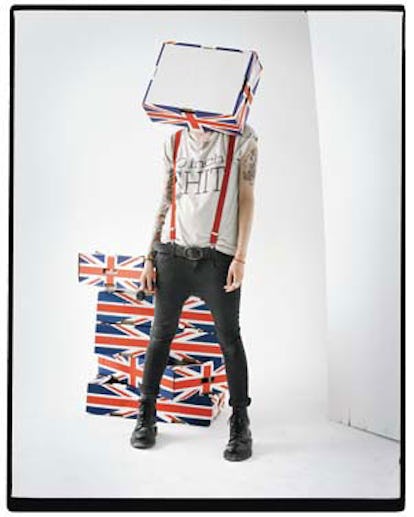 The cool East Londoners photographed by Tim Walker take us on an insider's ramble around their 'hood.
Shops * These staunch individualists haunt the vintage stores on and near Brick Lane, where "you never see the same thing twice," Feral Bojangles assures us. Two consensus picks are Rokit (101 Brick Lane, 44.20.7375.3864, rokit.co.uk) and Beyond Retro (110-112 Cheshire Street, 44.20.7613.3636, beyondretro.com). * To score rare LPs and "drink coffee and listen to records all day long," as Daniel Sallstrom does, hit Rough Trade (91 Brick Lane, 44.20.7392.7788, roughtrade.com).
Hangouts * Paul Joyce recommends the Counter Café (4a Roach Road, 44.78.3427.5920, thecountercafe.co.uk), an off-the-beaten-path eatery in Hackney that he describes as "shitty outside, falling down inside, but with really beautiful food." * For inspiration, Rowdy Superstar, a hip-hop artist, drops in to visit the "really old instruments" at the Horniman Museum and Gardens (100 London Road, 44.20.8699.1872, horniman.ac.uk). * "I go to an old Italian greasy spoon in Bethnal Green called E Pellicci [332 Bethnal Green Road, 44.20.7739.4873]," says Bojangles. "There's all sorts there: drug dealers, gangsters, trannies, and Guy Ritchie."
Nightspots * Friday nights are for the East London bacchanal Caligula (caligulauk.com), where the DJ spins neo-disco for a fashion- damaged crowd. Performance artist Scottee occasionally puts on a show. * Vogue Fabrics in Dalston (66 Stoke Newington Road) is a "fabric shop by day, club by night," says Superstar. It's also a scruffy basement scene that police have shut down in the past. * Bojangles likes Dalston Superstore (117 Kingsland High Street, gallerysuper store.blogspot.com), which is "not a gay bar, not a straight bar, but a very polysexual bar," he says. And sometimes not a bar at all: The Superstore serves as a gallery for young artists by day. * East Enders Julia Dakin, Lucy Bridge, and Ronx recommend the Bastard Batty Bass parties (battybass.com) at the Star of Bethnal Green pub (359 Bethnal Green Road, 44.20.7729.0167, starofbethnalgreen.com).