London Fashion Week's Top 5 New It Girls to Follow Now
Meet the next generation of Alexa Chungs. Here, the top five models, actresses, and It girls to follow on Instagram who took over the front row at London Fashion Week.
---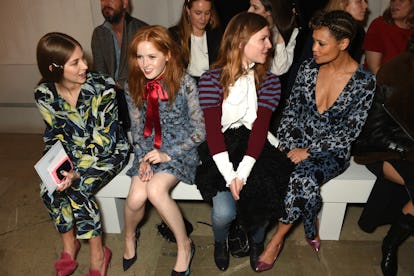 David M. Benett
London Fashion Week brought out Britain's best and brightest scions, from Rocco Ritchie to Iris Law. But sprinkled among them front row were also rock 'n' roll royalty like Anaïs Gallagher, the 17-year-old daughter of Oasis guitarist Noel Gallagher; model and actress Clara Paget, who also happens to be the daughter of a nobleman; plus Immy Waterhouse, the younger sister of Suki Waterhouse.
If there's one thing that London never lacks, it's youth culture. And fashion week is a great opportunity for cool new young names to rise to the top. Here are five front row stars to follow now.
Who: Immy Waterhouse
Where: Burberry and Christopher Kane
Why: The 22-year-old younger sister of Suki Waterhouse, Immy Waterhouse is making a name for herself as both a model and an actress—in addition to being a front row regular at London Fashion Week. She made her debut as an actress, attending the Oxford School of Drama before landing roles in BBC One dramas and most recently Tom Ford's Nocturnal Animals. She's also been tapped by Tommy Hilfiger and flew across the pond to Los Angeles for his West Coast extravaganza. Despite all this, Waterhouse's style and her Instagram are as laid-back as they come.
Who: Clara Paget
Where: Vivienne Westwood's party, Topshop, Charlotte Olympia, House of Holland, and Astley Clarke.
Why: The English model and actress Clara Paget has acted in everything from Fast & Furious 6 to a short film adaptation of an Albert Camus work. But the 28-year-old's star power was surely on display at London Fashion Week, where she attended a number of shows and partied with friends like the model Adwoa Aboah. She's also a scion in the British sense, seeing that her father, Charles Paget is the 8th Marquess of Anglesey.
Who: Anaïs Gallagher
Where: Mulberry
Why: The 17-year-old daughter of Noel Gallagher, one of the founders of Oasis, Anaïs Gallagher is British rock royalty. Her mother, Meg Matthews, is also a British tabloid favorite, and Gallagher seems to want to exist somewhere in the middle. Signed to Select Model Management, she's an aspiring model with scion friends like Iris and Rafferty Law. She also boasts almost 100,000 followers and seems to spend her days perfecting a mirror-selfie pout and channeling a Petra Collins pink aesthetic.
Who: Hermione Corfield
Where: Burberry, Christopher Kane, and Erdem.
Why: Hermione Corfield is another English actress turned front-row star, and was recently in Pride and Prejudice and Zombies with Ellie Bamber, who sat next to her at Erdem this week. The 23-year-old is the daughter of Richard Corfield and Jermyn Street shirt designer Emma Willis, so she comes from a fashion background. But her style is entirely her own. One day, she'll post a photo of herself on the red carpet in a silver jumpsuit, and in another she'll be on the streets of London in a beret and loafers.
Who: Adwoa Aboah
Where: Burberry; walked Erdem, Topshop, and Simone Rocha.
Why: Perhaps the most well-known of the bunch, the model and activist Adwoa Aboah is well on her way to joining the next wave of super-chill supermodels. In addition to her own Instagram account, which has over 130,000 followers, Aboah started Gurls Talk, an inclusive platform for women and girls to get loud about everything from politics to periods. She started modeling as a teenager, but now as a 24-year-old just landed a spot on Vogue's March cover.
Behind the Scenes of W's 'I Am an Immigrant' Shoot with Adriana Lima, Anja Rubik, Maria Borges, and More
A behind the scene from W's I am An Immigrant Video shoot.

Photo by Biel Parklee
A behind the scene from W's I am An Immigrant Video shoot.

Photo by Biel Parklee
A behind the scene from W's I am An Immigrant Video shoot.

Photo by Biel Parklee
A behind the scene from W's I am An Immigrant Video shoot.

Photo by Biel Parklee
A behind the scene from W's I am An Immigrant Video shoot.

Photo by Biel Parklee
A behind the scene from W's I am An Immigrant Video shoot.

Photo by Biel Parklee
A behind the scene from W's I am An Immigrant Video shoot.

Photo by Biel Parklee
A behind the scene from W's I am An Immigrant Video shoot.

Photo by Biel Parklee
A behind the scene from W's I am An Immigrant Video shoot.

Photo by Biel Parklee
A behind the scene from W's I am An Immigrant Video shoot.

Photo by Biel Parklee
A behind the scene from W's I am An Immigrant Video shoot.

Photo by Biel Parklee
A behind the scene from W's I am An Immigrant Video shoot.

Photo by Biel Parklee
A behind the scene from W's I am An Immigrant Video shoot.

Photo by Biel Parklee
A behind the scene from W's I am An Immigrant Video shoot.

Photo by Biel Parklee
A behind the scene from W's I am An Immigrant Video shoot.

Photo by Biel Parklee
A behind the scene from W's I am An Immigrant Video shoot.

Photo by Biel Parklee
A behind the scene from W's I am An Immigrant Video shoot.

Photo by Biel Parklee
A behind the scene from W's I am An Immigrant Video shoot.

Photo by Biel Parklee
A behind the scene from W's I am An Immigrant Video shoot.

Photo by Biel Parklee
A behind the scene from W's I am An Immigrant Video shoot.

Photo by Biel Parklee
A behind the scene from W's I am An Immigrant Video shoot.

Photo by Biel Parklee
A behind the scene from W's I am An Immigrant Video shoot.

Photo by Biel Parklee
A behind the scene from W's I am An Immigrant Video shoot.

Photo by Biel Parklee
A behind the scene from W's I am An Immigrant Video shoot.

Photo by Biel Parklee
A behind the scene from W's I am An Immigrant Video shoot.

Photo by Biel Parklee
A behind the scene from W's I am An Immigrant Video shoot.

Photo by Biel Parklee
A behind the scene from W's I am An Immigrant Video shoot.

Photo by Biel Parklee
A behind the scene from W's I am An Immigrant Video shoot.

Photo by Biel Parklee
A behind the scene from W's I am An Immigrant Video shoot.

Photo by Biel Parklee
A behind the scene from W's I am An Immigrant Video shoot.

Photo by Biel Parklee
I Am an Immigrant: 81 Fashion Celebrities Present a United Front
I Am an Immigrant: 81 Fashion Celebrities Present a United Front