Letter From London
Is Gordon Brown turning Downing Street into Dullsville?
---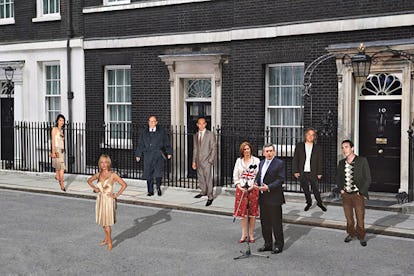 In England the premiership of Gordon Brown has begun. Alas. Great Britain's 52nd prime minister is known to some as the one-eyed Puritan after losing an eye in a rugby game. Not since the 17th century, when Roundhead Oliver Cromwell overthrew the Cavalier King Charles, have sybarites been so depressed. "Let's not forget," one aristocrat told me, "that only Gordon Brown and small children have had to be taught to smile at a camera."
In the run-up to the handover, the Tee-Bees (supporters of Tony Blair) teased the Gee-Bees (supporters of Brown) that Brits would never embrace a man whose mouth pointed downward, whose teeth were mossy and whose suits resembled crumpled paper bags. Recently, however, there's been an extraordinary transformation: Mr. Brown got some snazzy outfits and a modern haircut, and his teeth seem distinctly whiter. (On the political front, no disasters so far: My friends' trust funds are still intact, and there are encouraging hints about an imminent withdrawal from Iraq.)
Blair adored the high life and turned off his BS detector to justify holidays with the Berlusconis and late nights with PR mogul Matthew Freud and Sun newspaper editor Rebekah Wade. He even swam in the Tuscan pool of Lord Lambton, the Tory minister who lost his job when a newspaper printed a photograph of him in bed with two prostitutes and smoking a joint. (Sometime after Blair's swim, the noble Lord Lambton died, but there is no suggestion of any connection between the two events.)
Unlike his predecessor, Brown doesn't swan off to Barbados and pose on the back of a speedboat wearing the latest Vilebrequin swimming trunks. He spent his holiday this year in wet and windy Dorset, and in the past has been spotted playing tennis in Cape Cod along with Messrs. Alan Greenspan and James Wolfensohn.
As our new prime minister settles in, everyone's asking, "Who's in Gordon's court?" Most assume the answer is, "Nobody very interesting," since Brown is a serious chap who maintains that he spends his free time reading books—or writing them—and that his inner coterie includes like-minded Scots. However, if you listen hard, you can detect the odd rustle of silk among the hair shirts.
The new power couple is Sir Ronald Cohen and his wife, Lady Sharon Harel-Cohen. Sharon is a distinguished film producer (Gosford Park) whose father was the commander of the famous Holocaust survivors' ship Exodus. Ronald came to London at 11 as a penniless exile from Egypt. He got first to Oxford, then to Harvard Business School, then to venture capitalism, and later founded the private equity fund Apax, which had a market capitalization of $35 billion plus. In his time, Sir Ronnie has donated more than two million dollars to the Labour Party, which might partly explain his knighthood.
Another prominent F.O.G. (friend of Gordon) is the Oscar nominee Paul Greengrass, director of two films in the Bourne series. Perhaps Sharon Harel-Cohen should develop a blockbuster called The Brown Supremacy as a tribute to her friend Gordon, and enlist Greengrass as director. Another close F.O.G., J.K. Rowling—recently declared even richer than the Queen—could write the script. If Gordon is looking for a publisher, it might help that his wife, Sarah, is a close buddy of Wendi Murdoch's (wife of Rupert). Sarah, whose father was also a publisher, used to run the PR firm Hobsbawm Macaulay and is no stranger to spin. These days she devotes her time to the couple's two young sons (a daughter died shortly after birth). Her new home, Number 10 Downing Street, looks tiny on the outside, but the private quarters sit atop a rabbit warren of more than 100 offices. In one room you can still find George III's throne, and if you go down into the basement, you'll see the remains of Charles I's indoor tennis court.
Which brings me to the growing flurry of interest in English sports. Alas, again. The United Kingdom holds the dubious accolade of having invented most of the world's greatest sports but failing to shine in any of them. Modern golf came from Scotland; cricket, soccer, hockey, tennis, rowing and rugby from the South. But the last time we won the World Cup at soccer was in 1966, and no one's expecting to see many Brits on the podium at London's 2012 Olympic Games.
Very occasionally a British athlete such as David Beckham, the delicious footballing hunk with that wife, captures both the critics' and the public's imagination. But No. 1 in everyone's love seat right now is Lewis Hamilton, the handsome 22-year-old rookie who looks set to win the Formula One car racing championship.
Some clever exec should snap up Hamilton's life story. Since Hamilton was a child, he and his father, a former British Rail employee, dreamed of winning the championship. It was an unlikely goal for a boy who grew up in a poor family. Hamilton has cited his younger half brother, Nicholas, who has cerebral palsy, as his inspiration. There wouldn't be a dry eye in the cinema.
There'll be a different kind of tears in a forthcoming film about another English sportsman. Brit comedian Steve Coogan will play Eddie the Eagle, who became a national hero by being an utter failure. Michael "Eddie" Edwards was an overweight plasterer who decided to represent his country at ski jumping in the 1988 Winter Olympics. The fact that there was no snow in Eddie's hometown was only one drawback. He also was so nearsighted that if his glasses fogged up on the descent, he had to ski blind. Unfortunately, he came in last in both his events.
Today our politicians, so often tarnished by national and international events, need that sprinkling of magic fairy dust that only celebrities can provide. For Blair's inauguration party, he invited a whole load of raffish pop stars, designers, playwrights and literati. This fete marked the beginning of an era known as Cool Britannia.
Brown wanted to launch his leadership on a different note. For starters, with his Labour Party so strapped for cash, the former chancellor wasn't going to offer any freebies. He asked guests to pay up to $2,000 to attend an event at the magnificent new Wembley Stadium. And although there were a few glitterati in attendance, Brown's VIPs were the nation's top athletes. There were lots of speeches and toasts, including one to future English sporting success.
Don't mock. We can dream, can't we?
browns and downing street: Richard Lewis/epa/Corbis; Greenspan: Alex Wong/Newsmakers/getty images; MURDOCH: John Sciulli/WireImage; rowling: Dave Hogan/Getty Images; hamilton: David Fisher/Rex USA; greengrass: Jim Spellman/WireImage; coogan: Evan Agostini/Getty Images; big ben: Walter Bibikow/Corbis; union jack: getty images