London Men's Designer Alex Mullins Knows Exactly How You Feel on a Lazy Sunday
After stints with Alexander McQueen and Kanye West, the down-to-earth British designer is coming into his own with a unrestrained Fall 2017 collection, shown at this week's kickoff of London Fashion Week Men's.
---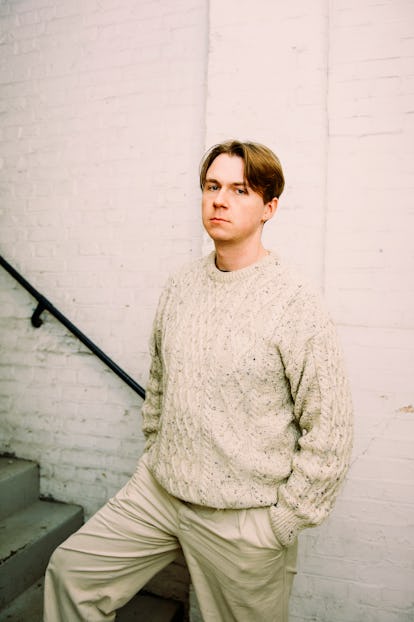 Photo by Steph Wilson, produced by Biel Parklee.
Though the designer Alex Mullins is most often found in East London, inside the studio where he runs his namesake label, lately, his mind has found itself in the Southern reaches of the city. It's there where he grew up with his parents, and, more importantly, would spend afternoons watching VHS tapes, cozied into the living room wrapped up in blankets not dissimilar from some of the drapier garments in his Fall 2017 menswear collection, whose street-cast models paraded down the runway at London Fashion Week Men's kickoff on Friday.
"This season was a lot about reflection," Mullins said of how those childhood memories ended up in the fluffy mohair knits and chartreuse merino wool on the catwalk. "It's now time that I can quite comfortably reference myself."
Mullins, 29, knocked out a who's who of employers like Alexander McQueen, Diane von Furstenberg, Jeremy Scott, and Kanye West before he even graduated, earning degrees not just from Central Saint Martins, but also another storied institution, the Royal College of Arts. Not that any of that seems to have gone to his head.
"It wasn't really a big deal," Mullins said of his time on the print and embroidery team at McQueen in 2009, just around when he was graduating from undergrad—a gig that came in between interning for Scott in Los Angeles and assisting one of West's designers in Paris, pre-Yeezy.
But it was his post-grad pursuits consulting and working in tech that enabled him to start his brand, the "quite expensive" launch of his namesake label in 2013. Nowhere, though, was that corporate sacrifice apparent in his debut collection: a heavy show of romanticism complete with sheer button-ups and fringed pants, peppered with bolo ties, feather-stuck beanies, and fisherman's sweaters crawling with flower petals.
"I was creating without a purpose whatsoever," Mullins recalled, likening his approach to that of an outsider or folk artist. "I wasn't really thinking about stores, and I wasn't really thinking about how anyone would perceive it. I just kind of did it."
Since then, Mullins has shown five times at London Fashion Week Men's, garnered support from the British Fashion Council through its NewGen program, picked up stockists from Shanghai to Milan, and found himself on the 2016 list of semifinalists for the coveted LVMH Prize. Between all that and actually building his brand, it's only this season that Mullins has been able to get back to those more innocent roots.
For Fall, instead of staying afloat financially, not to mention getting "bogged down with about 600 million emails a day," he opted to turn his thoughts to not just memories of watching technicolor films at his parents', but personal preoccupations like, "How you feel on a Sunday, when you want to camouflage yourself into your own surroundings and hide a little bit."
Like denim and comfortable, exaggerated proportions, that type of freedom is not entirely new for Mullins; his past season, after all, was inspired by internet memes. It is one, though, he now feels he can afford comfortably.
And if not, anyway, Mullins has a backup plan: a womenswear line he launched last year that he designs on a much smaller scale with full creative control and without any of the demands of a more commercial line. "I really like how I can really have my hands on it, curating the whole look and my vision. It's refreshing," he said.
He's not the only one who seems on board. "I think women really respond to my textiles and colors and proportions," Mullins added. He paused to consider, then laughed. "And also, my jeans always have a really good bum on them, which women really like."
See W's most popular videos: