Rated XX: Lone Scherfig
It has been a banner year for female filmmakers, whose prowess behind the lens showed up onscreen in romantic comedies, war movies and art-house gems. Here, three of our favorite game changers.
---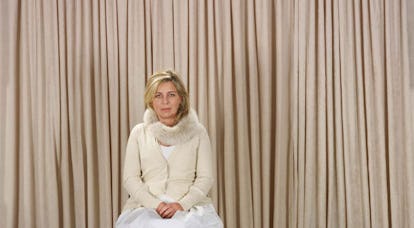 Danish writer-director Lone Scherfig has always considered herself something of a cultural tourist, preferring to tackle worlds removed from her own. Still, she knew she was a long shot to direct An Education, 2009's smart drama about a teenage girl's coming-of-age in early-Sixties England. Schooled in Lars von Trier's stripped-down Dogme 95 film movement, Scherfig had made only one English-language film—Wilbur (Wants to Kill Himself) (2002), about a suicidal loner—and though a star auteur in her native Denmark, she was not well known elsewhere. But Scherfig shares an agent with British novelist Nick Hornby, who penned the script, and when the original director, Beeban Kidron, dropped An Education to pursue another project, Scherfig got the call.
"I think it's easier to film something that you don't know," says Scherfig, 50, affable and buoyant as she settles into a sofa at New York's Soho Grand Hotel. "All my films take place somewhere that's not where I live and in a space in society that I don't belong to." The story of a schoolgirl seduced by an older man, An Education is rooted in postwar, preswinging London, and to win the job, Scherfig had to describe in detail how she'd approach it. "I wanted to break that wall between the period and the audience by making sure that the characters and the sets didn't compete," says Scherfig, who adopted a minimalist approach to the interiors and shied away from that era's bright hues. "I wanted to turn it down a bit so you see the characters more. You should feel things, not see things."
"Her Danishness really worked to our advantage," says Hornby, noting Scherfig's ability to "wring things out of a scene" that even he didn't know were there. "She could see better than people who'd grown up within the culture what was strange about it, funny about it, the details that spoke volumes." In the mock-Tudor house in which much of the action is set, she found "a striving for beauty," says Hornby, where most Brits would see only "suburban tedium."
Scherfig's quiet acuity for the quirks of human nature—and the drama of class in England—lies at the heart of An Education, which has been generating Oscar buzz since it won an audience award at Sundance. Much of the attention has centered on British newcomer Carey Mulligan, whom Scherfig cast as the bright, inquisitive Jenny after auditioning about a hundred actresses for the role. But it was the deftly drawn David, the sly charmer who promises Jenny a way out of her dreary suburban life, that drew Scherfig to the film. As played by Peter Sarsgaard, who was cast before Scherfig signed on, he seems thrillingly raffish and worldly as he takes 16-year-old Jenny on jaunts to Paris, the dog track and London nightclubs.
"Peter has no vanity and the ability to identify with someone who has a crooked mind," Scherfig says. "A lot of David's complexity comes from Peter. In all my films, the leading characters are men in their 30s. It's a moment in a man's life where he's a fully developed personality who is at a turning point. Men are much more interesting to me because they're a different species. I've been more bored as a writer when I've written for women."
Scherfig was the first woman admitted to von Trier's brotherhood of filmmakers, a group whose members vow to give up their claim to being artists and to any directing credit for the Dogme films they make. (They must also employ handheld cameras; use only natural lighting; and avoid depicting murders, weapons and superficial action.) She says that, like Jenny, she "studied hard and went to Paris and got in the wrong cars with men," though she came of age in the mid-Seventies. To Scherfig, Jenny is emblematic of the restless previous decade. "She's exploding with something but doesn't yet know what it is, longing for a future she can't yet define," says the director, who grew up in an artistic family—her mother was headmistress of the Royal Danish Ballet School and her father a publishing executive—in Copenhagen. "Right after the film ends, you know the first Beatles album is going to come out."
That An Education has provoked charges of pedophilia and anti-Semitism in some quarters has taken both Scherfig and Hornby by surprise. Sixteen is the age of consent in England, and David, Scherfig points out, is based on a real character in British journalist Lynn Barber's memoir of her schoolgirl liaison with an older Jewish man. "I come from a culture where the moral standards are a bit sloppier," she says. "The anti-Semitism and underage sex weren't something I thought I was going to have to explain and defend to the degree that I have. I didn't think it would make sense not to depict those elements of the period, but the fact that you have a Jewish main character who is so flawed is more controversial than I had anticipated. Nick and I decided not to cut out the fact that he's Jewish, because it's an important part of David's character—that he's an outsider."
Though she has no plans to decamp from her home by the sea outside Copenhagen, Scherfig—who worked as a television writer while her daughter, now 15, was young, and is married to a biotech executive—yearns to follow up her recent string of intimate, character-driven ensemble films with "more plot, more suits, more gangsters, more shiny cars, more action."
"Limitations are inspiring, but at some point, you get tired of them," she says. "I used to say, 'You have to judge a chef by his omelet,' but sometimes you just want to cook something interesting." For the moment, she concedes, she's savoring "getting the kind of attention I've never experienced," noting that the scripts sent her way have improved, as have the publications vying for interviews. "I mean, you're not from some Norwegian knitting magazine!" she says with a gutsy laugh, adding as she heads off, "Thanks so much for listening!"