Going to Great Lengths
These days, being older doesn't have to mean losing your long hair.
---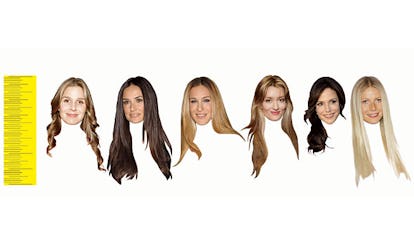 Estée Lauder scion Aerin Lauder and her mother, Jo Carole Lauder, agree about many things beauty-related, from their devotion to brown eyeliner to the importance of applying a good moisturizer twice a day. But on one issue they simply do not see eye to eye. "My mother thinks I should cut my hair," says Aerin, whose long, glossy, chestnut-colored hair is as much a part of her look as her posh Park Avenue wardrobe. "She told me to cut it just yesterday! She said my hair is so long that it's ridiculous." Aerin, a 37-year-old mother of two, has no immediate plans to take her mother's advice but says she understands where Jo Carole, now in her early 60s, is coming from. "She's from that generation of not growing it superlong," Aerin explains. "But I just think long, layered hair looks very feminine, pretty and soft."
Demi Moore
There used to be a rule about a woman's age and the length of her hair. Simply put, long was acceptable only for the young. Beauty guides like Beauty Begins at Forty, a 1984 book written by Barbara Coffey, a former Glamour magazine editor, didn't mince words on the topic. "After 40, don't wear long hair. Chin-length is a good length that provides versatility," pronounced the author. Those who dared to transgress this rule, it was implied, were veering dangerously close to Jane Seymour territory.
But almost 25 years later, it's not just the ingenues who are letting their hair down. Demi Moore, 45, she of the pixie cut in the days of Ghost, today has a flowing mane that falls to the middle of her back. Jennifer Aniston, Gwyneth Paltrow, Sarah Jessica Parker, Kyra Sedgwick and Natascha McElhone, all in their mid-30s to early 40s, have hair that reaches their breasts. Even Meryl Streep has recently grown hers long again. And one year away from turning 60, she looks as sexy as she did 20 years ago.
"I definitely don't believe that you have to cut off your long hair after 40," says hairstylist Chris McMillan, who in his eponymous Los Angeles salon tends to the lustrous locks of Aniston and other leading ladies. "Women take better care of themselves on the whole. Their bodies are healthier, their skin, their hair—everything is healthier. It doesn't all go to pot after 40 anymore." It's true. Whether it's Pilates, dermatologist appointments or low-carb diets, well-maintained women in their mid-30s and 40s don't look like their mothers did at their age. They're dressing more youthfully and letting their hair grow long to match.
Gwyneth Paltrow
I myself used to have a short hairstyle that, I liked to believe, resembled Princess Diana's. I loved feeling the breeze hit my bare neck. I loved how it looked with a black turtleneck and a pair of diamond studs. I even grew judgmental of my long-haired peers, smirking at their need to have that unnecessary accessory in order to feel feminine. This all came to a crashing halt, however, one day when I looked at a photo of myself and realized I looked less like Di and more like my middle-school gym teacher. That was about seven years ago, and since then I've let it grow to its current long length.
According to Valery Joseph, the man who regularly looks after my strands at his Upper East Side salon, I am just one of a number of his clients who have chosen to go long. "For a few years everyone wanted a bob, but now they're all going long again," he says. "I think it's fine, so long as it's healthy and full." But he doesn't hide his opinion when he thinks the length has gotten out of control. On my last visit, he took one look at my ratty locks and greeted me with a pointed "Hello, Samson!" before quickly snipping off a good two inches.
Sarah Jessica Parker
McMillan has his own cutting-off point. "Under the boobs is not appropriate, but kind of right above the boobs is," says the stylist, laughing at his phrasing. "I know, it's kind of weird, but that area between above the boobs and below them takes a woman from groomed and tailored to grown-out hippie grandma. Those two inches are crucial."
According to the experts, long hair also needs to have dimension. Paul Podlucky, Aerin Lauder's hairstylist, who works out of his cozy studio apartment off Madison Avenue, says it's all about the layers. "A good haircut has structural integrity," he explains. "Length constitutes weight, so wherever you have shortness, you'll have lift. That's why I've always pushed layers."
Alan Tosler of Tosler Davis, another salon in New York, agrees. "You can soften hair a lot just by angling it around the face," he says.
Keeping the strands healthy is also key. Long hair, even a teenager's, is usually weaker, due to daily wear and tear. As people age, even newly sprouted hair tends to be coarser and frizzier. In other words, it's not the time to skimp on conditioners and styling products—and a good blowout helps appearances too. Says Brian Thompson of the Philip Kingsley Trichological Clinic in New York, "Think about it in terms of engine oil in a car. The hair needs to slip over itself more effectively."
Mary-Loiuse Parker
Even so, not everyone is enamored of the over-40 long-hair trend. Salon AKS co-owner Alain Pinon believes that a shorter haircut is often a better way to go. "Women are in great shape in their 40s," he says. "Long hair hides your shoulders, your neck and your bone structure—it closes everything up. We're still attached to the idea that long hair is very feminine and that men like it better that way. But when you go short, everybody steps back and looks at you differently."
And it goes without saying that one needs to dress appropriately to balance the look. "If you have long hair and you're wearing age-appropriate clothing, it looks perfect, finished," says Lauder. "But if you have long hair and very young clothing, it looks bizarre."
Here, McMillan wouldn't disagree: "If you're going to have long hair, keep the outfit simple. A lot of women I see in Malibu, they're overtanned, their long hair overstreaked. They think they're twinsies with their daughters, and that's not appropriate. When you're in your 40s, you've got to keep it chic and simple. Do a long bang that swoops to the side with soft layers around the face, or a low ponytail like Carolyn Bessette. She was the perfect example of chic long hair."
In fact, Lauder also cites the late Kennedy wife as a long-haired icon of hers. "I used to always rip out pictures of her and wanted to get my hair cut like that," she confesses. "That's who inspired me to cut layers."
Me too. And so on days when my own layers aren't cooperating, I opt for that low ponytail. Not that I remotely fancy myself resembling Bessette. Okay, maybe from behind.
Lauder: Amy Sussman/Getty Images; Moore: Gina James/Graylock/Retna Ltd; Sarah Jessica Parker: Jamie McCarthy/WireImage; McElhone: Dave Hogan/Getty Images; Mary-Louise Parker: Jeff Kravitz/FilmMagic; Paltrow: Michael Tran/FilmMagic;