Lori Loughlin Pleads Guilty For Her Involvement In Operation Varsity Blues
The Full House actress now faces two months of prison and her fashion designer husband, Mossimo Giannulli, will face up to five.
---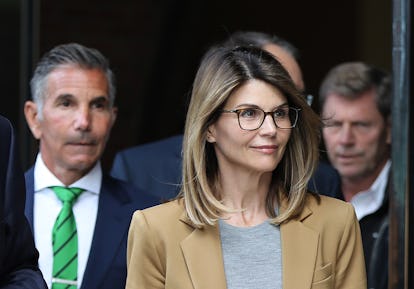 Photo by Pat Greenhouse/The Boston Globe via Getty Images
The day of reckoning that many speculated would eventually come has finally arrived: Lori Loughlin and Mossimo Giannulli have agreed to plea guilty for their involvement in the 2019 college admissions scandal known as Operation Varsity Blues.
According to the U.S. Attorney's Office in Massachusetts, the couple that initially plead not guilty—and continued to dodge plea deals while not publicly expressing any remorse—has finally plead guilty to conspiracy charges, which totaled up to 20 years of prison. After pleading guilty to one count of conspiracy to commit wire and mail fraud, Loughlin received a two-month prison sentence, and after Giannulli plead guilty to one count of conspiracy to commit wire and mail fraud and honest services wire and mail fraud, he received a five-month prison sentence. The Full House actress is also receiving a $150,000 fine and 100 hours of community service, while her fashion designer husband will be fined $250,000 and 250 hours of community service. Both will face two years of supervised release after imprisonment.
Last year, they were accused of bribing a coach with $500,000 to get their daughters—beauty vlogger Olivia Jade and Isabella Rose Giannulli—into the University of Southern California. A fake athletic profile and a photo of their daughters posing as medal-winning crew team members was considered to be the smoking gun for their part in the nation-wide college entrance cheating scam.
The Giannullis weren't the only wealthy celebrity parents implemented in the scandal—Felicity Huffman allegedly spent $15,000 to pay someone to pretend to be her daughter so that they could take the SAT for her, and get her into college. After being charged with conspiracy to commit mail fraud and honest services fraud, Huffman plead guilty and was sentenced to 14 days in jail, a $30,000 fine, a year of supervised release, and 250 hours of community service. She only ended up serving 12 days in jail, and was released early in October 2019.
When the scandal broke last year, the initial reaction from the general public was one of both glee and anger, especially as Olivia Jade was spotted partying on yachts and losing her Sephora sponsorship.
But for many on social media, the schadenfreude of watching wealthy people embarrass themselves on a national scale quickly gave way to reality after Loughlin's short sentence was revealed. Huffman only served 12 days for her crimes, and Loughlin has only been sentenced to 60 days. One can't help but wonder if either weren't white and extremely wealthy if their sentences would have turned out to be much more harsh.
Related: Lori Loughlin Maintains That She Doesn't Think She Committed a Crime