Lou Dallas, New York Fashion Week's Most Exciting New Label, Exists Because the Designer Couldn't Afford New Clothing
And now her clothes appear on the red carpet at the Met Gala.
---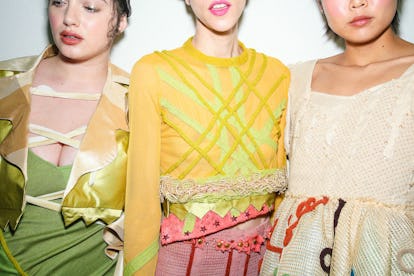 Serichai Traipoom
At first glance, you'd be hard pressed to come up with a reason why the artsy crowd gathered at the downtown gallery Arsenal Contemporary during New York Fashion Week on Tuesday to watch a parade of models decked out in oversized bows and Renaissance-like corsets would have any connection at all to Bruce Willis. But just like every other design that Raffaella Hanley has made for her label Lou Dallas since 2013, each look that appeared on the makeshift runway was in some way attached to the actor, as the 28-year-old's designer nom de plume is an homage to Korben Dallas, the character Willis played in the 1997 film The Fifth Element. (Hanley opted for the name "Lou" instead of "Korben" because she was worried it wouldn't be original enough—and "because it sounded androgynous and a little French.")
Of course, the film's Jean-Paul Gaultier-designed costumes were in large part what really drew Hanley to The Fifth Element in the first place. Hanley ended up pursing costume design while she attended a high school with a robust theater program in her native New York. Though she pursued painting in college, she couldn't help but take textiles classes at the Rhode Island School of Design, too. Unsurprisingly, she became friends with fellow RISD students Mike Eckhaus and Zoe Latta, whose label Eckhaus Latta has since paved the way for New York's current crop of emerging, art school-minded designers.
It wasn't long before Hanley started helping Eckhaus and Latta hand-sew their first-ever collection after graduation—and coming to the realization that "I had to stop and start making some money," she recalled with a laugh. Retail, it turned out, was definitely the wrong route: Hanley recalled with a laugh that she lasted just two weeks at the noted vintage store Screaming Mimi's before getting fired, leading her to "another disaster" when a pair of Margiela shoes was stolen on her watch at a different store. Eventually, though, after putting the knitting skills she'd learned at RISD to use for a knitwear brand, Hanley made enough money to take a month off and make her first collection—one she designed in part because she she was at that point too "broke" to buy herself any clothing.
Her first show in 2013, which took place at her mom's friend's apartment, was attended almost entirely by Hanley's friends—and, oddly and encouragingly enough, by DIS magazine. From there, Hanley put her few resources into creative use: she held her second show at an artist's studio in Gowanus, and, thanks to her mom's supportive interior designer friend, managed to turn a bunch of high-quality scraps into the deadstock fabric she uses in her line free of charge. She enrolled in the Fashion Design and Society MFA program at Parsons in 2015, but dropped out after just a year, making sure to stay clear of debt.
After five years, it seems safe to say Hanley's method has officially worked. While she still doesn't "have any money" and assists an artist a few days a week, these days, she's "basically full-time" when it comes to Lou Dallas, and her hard work has definitely paid off: her designs even made an appearance on the red carpet of the Met Gala last year.
Over the least year, she's picked up the industry favorite Stella Greenspan—who introduced herself to Hanley at a bar after a friend of hers pointed out she was "Lou Dallas"—as a stylist, and is determined to continue expanding her team beyond interns and a machinist. Most importantly, though, Hanley is now getting established enough to start figuring out production, so that her one-of-a-kind deadstock pieces can be carried in more places than the downtown concept store Planet X. Mass production is easy enough with the concept tees Hanley has been developing—primarily with the anti-war slogan "Think Otherwise" accompanied by a bomb—but her "main goal" is now to "make it work with the deadstock material, because I'm committed to repurposing and reusing."
To get an idea of that commitment, take Hanley's fall 2018 collection, her seventh to date: it consisted of knits that were all loomed in-house and hand-dyed fabrics topped off with embroidery and sequins that were also done by hand—and worn with shoes hand-painted by the artist Will Sheldon. For many brands, this type of fastidiousness would merit labeling the garments "couture," but for Hanley, it's simply her process.
With her small team, Hanley has had a bit of trouble readying her shows, which have ranged in venue from the Ukrainian National Home to a lighting store, in time to coincide with the standard fashion calendar and reach the interest of buyers and press. Meaning, she's had little time for anything else. "The ironic thing is the reason I started Lou Dallas is that I thought it would make me money to do my paintings on the side," Hanley said, admitting she hasn't had time for actual painting in months.
Thankfully, since her next show isn't until September, Hanley has a bit of a break until she begins designing in June, which she's already planned to devote to "figuring out a solid business plan." For the present, though, she has to continue churning out designs just a bit longer: "Now I have to make clothes as thank you's to a lot of people."
Watch: Marc Jacobs's First Kiss Was With a Girl, But It Was Just for Show:
Related: Women's History Museum, Once an Underground Fashion Secret, Is Now Finally Available to the Public