Lou Roy-Lecollinet's Golden Days
The Parisian actress talks on-screen nudity in her cinematic debut.
---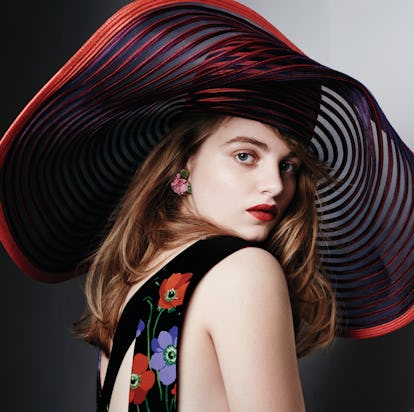 Photographer: Ward Ivan Rafik Stylist: Azza Yousif
When she was cast in Arnaud Desplechin's My Golden Days (out in March), Lou Roy-Lecollinet may have lost a friend, but she found an occupation. "I didn't want to be an actress. I wanted to direct plays onstage," says the 19-year-old Parisian, who accompanied a high-school drama-class pal to an open call for moral support and happened to catch the eye of the renowned French director. Despite having no interest in being in front of the camera, she landed the part. "It wasn't my first idea for a future career, but now I'm thinking about cinema."
And well she should. In My Golden Days, a three-part meditation on the early years of the life of the anthropologist Paul Dédalus, Roy-Lecollinet plays the bewitching Esther, a pouty, mature-beyond-her-years student with whom the teenage Dédalus (Quentin Dolmaire) has a prolonged, rollicking affair. "At first, it was a bit hard because I'm not at all that kind of girl, that beautiful girl who's cooler than everybody else," explains Roy-Lecollinet, who will next appear in the short films Jeunesse, from Shanti Masud, and La Tortue, by Thomas Blumenthal and Roman Dopouridis. "I'm really grateful to Arnaud. Without him, I don't think anyone would think of me as the girl every boy falls in love with."
Her innate talent clearly helped, too. Roy-Lecollinet effortlessly manages to portray both Esther's hyper self-possession and her crippling loneliness: Initially an aloof presence, Esther slowly reveals the chinks in her psychological armor. And, like her character, Roy-Lecollinet discovered a few new things about herself.
"It was very hard being naked in front of everybody," she says about the nude moments in the film. "But it was easier than other, very emotional scenes—I felt more exposed in those."