Louis Vuitton's #WELVMOMS Is a Cheerful, High-Fashion Take on the E-Card
To celebrate Mother's Day, the French luxury brand launched a chic digital greeting card.
---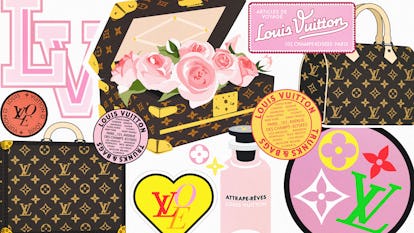 With Mother's Day coming up this weekend, many of us are looking for a way to celebrate our moms from a distance. Shipping non-essential items on a deadline can be tricky right now, and many florists have closed their doors for the foreseeable future. Sometimes it's best to keep things simple: personalized messages tend to mean more to our family members these days, anyway. Why not send a cheerful, animated e-card?
To coincide with the holiday, Louis Vuitton has launched #WELVMOMS, a chic, elevated, (and free!) take on the digital greeting card format. Think of it as the high fashion version of Paperless Post, with two elegant "paper" color options (dove grey and eggshell white) and an array of Vuitton-themed stickers for decorating.
Add a message, embellish the borders with sweet cartoon drawings of a monogrammed trunk filled with pink roses, a tiny bottle of Attrape-Rêves perfume, vintage travel stamps, or even a pair of Archlight sneakers, enter your information, and hit send.
It could be an IOU for an IRL gift, or simply a more festive alternative to Gmail's drab design when sending a short, heartfelt message. Either way, it's a nice gesture that can lift the spirits of any fashion-lover in your family.
To make your card, visit Louis Vuitton's website any time this week.
Related: Louis Vuitton's Luxury Jump Ropes and Volleyballs Are Selling Out