What's on the Menu at Louis Vuitton's First Café and Restaurant, Le Café V?
Get a first look at the crab macaroni au gratin, Opéra cake, and extensive sparkling water selection that'll be served at chef Yosuke Suga's establishment inside Maison Osaka Midosuji.
---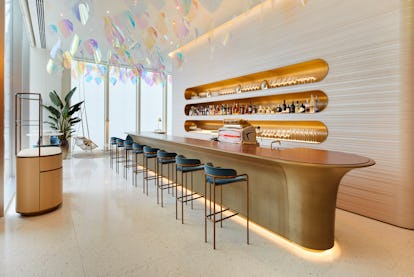 Photograph courtesy of Louis Vuitton
Louis Vuitton is the latest luxury brand to explore the experiential frontier. Its first café, called Le Café V, and restaurant, named Sugalabo, will open on February 15 in Osaka, Japan.
The two establishments—which are connected through a clandestine, speakeasy-esque trap door inside Le Café V which leads into Sugalabo—are housed within the new Maison Osaka Midosuji store. Designed by architects Jun Aoki and Peter Marino, the futuristic shop meant to resemble a traditional Japanese Higaki-Kaisen cargo ship with billowing sails, opens today.
But the focus of this bricks-and-mortar endeavor is Le Café V and its sit-down-dinner counterpart Sugalabo. At the helm of both kitchens is chef Yosuke Suga, who studied under French culinary legend Joël Robuchon as his protégé. The menu at Le Café V reflects Suga's background in haute cuisine—and we've gotten an advance look at what the offerings will be.
Coffees and teas are served, natch, and the coffee selection is pretty straightforward: Americanos, lattes, and ice coffees that'll set you back about $13 USD, according to the current exchange rate. The teas, however, are another story—choose a Darjeeling from Turzum, in India, or a variety by the name of "secondflash." The green tea comes from Kagoshima, Japan, and it's noted as being "the first picked tea of this year."
The menu is a Cali sober individual's dream. There is a strawberry mocktail, various juices including satsuma and tomato, and non-alcoholic wines—like a La Manoir de Sacres sparkling rosé grape juice that's called "So Jennie." For those who are still boozing, there are beers, wines, Champagnes and an Earl Grey-infused gin and tonic.
The mineral water section of the menu is specifically intriguing, for there is an entire zone dedicated to multiple water brands. (In all honesty, given that we're talking sparkling water here, it's pretty extensive. If you go to a restaurant in New York and they ask you "sparkling, still or tap?" and you choose sparkling they just plunk down whatever bubbly H20 they've got and you have no autonomy in the matter.) Select from Chateldon, Perrier, or Evian—all are 750-ml. size (about 25 ounces,) and run between $16 and $23 USD. If you're a peasant, choose the 1000-ml. Wasan, which costs $13.84.
Salads, sandwiches, (a Croque Monsieur with Raclette and Abondance cheeses looks particularly tantalizing) and various Wagyu beef dishes, plus a crab macaroni au gratin (aka macaroni and cheese) round out the entrée section. To start, try a quiche Lorraine or a cup of consommé.
Dessert options include an Opéra cake, mille-feuille with vanilla flown in from Madagascar, and a Fraisier cake made with strawberries from "Mr. Nakai," the menu states. Who is Mr. Nakai? You'll have to travel to Osaka to find out.