Louise's Love Story
How will Carla Bruni impact the French presidency now that she's first lady? The Countess counts the ways.
---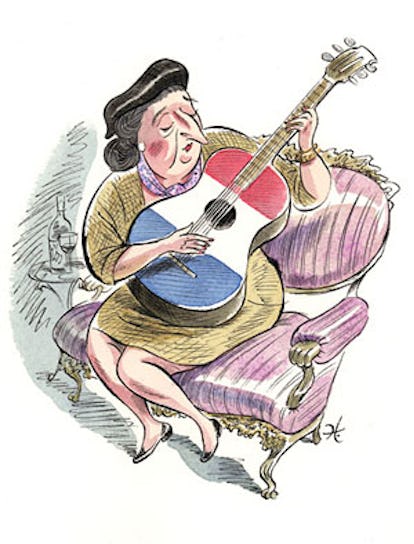 Lying in my sickbed at the Ritz in Paris (not exactly a total hardship, I admit), I opened France's Sunday newspaper, Le Journal du Dimanche, and saw a cartoon that immediately set my mind racing. French President Nicolas Sarkozy and his new wife, Carla Bruni, were ascending the stairway of the Elysée Palace. She wore a long, white dress cut so low in the back you could almost see her buttocks. He was turned so you could see his elevator shoes; she is much taller. "What's for dinner?" he asks. "Spaghetti," she responds.
So the change has begun—spaghetti for dinner and her music studio in the Elysée Palace. But what else will she alter? What impact will the beauteous Bruni (who wears almost no makeup) have on the French presidency (other than dragging her husband's approval ratings down to 36 percent) and on the 18th-century pile (once a dance hall) where so many presidents have lived? Will she sing in her breathless way into the ears of foreign diplomats, just as she's rumored to have done with her future husband? Will she sing to Barack Obama if he becomes the U.S. president? And what about Mother Merkel of Germany?
My imagination knows no bounds. I assume her songs will now play in the palace's elevators.And when Bruni walks up the stairs, the Garde Républicaine's swords will wiggle and their eyes will follow her every move.
As for the Elysée's interior, which some call ghastly anyway, the French president hates antiques, so perhaps he'll replace them with sleek, modern Italian furniture.
The Elysée Palace, of course, saw lots of drama long before Sarkozy. During World War I, a gorilla escaped from a nearby menagerie and tried to haul President Raymond Poincaré's wife off into a tree. So I suggest that Bruni put bars on her windows. But who knows? Maybe her dulcet voice will tame the savage beast.
Even Charles de Gaulle had reservations about the Elysée, deciding to house all guests in a separate building so he wouldn't find foreign kings wandering the palace's hallways in their nightshirts. And Jacques Chirac increased the palace's budget by 105 percent, to 90 million euros, so he could fix up the place. (My source for all these facts is the online encyclopedia Wikipedia.)
Now we have the new bride—and she's a woman who gets her way. After all, she married Sarkozy only three months after meeting him. A rich tire heiress, she achieved fame when she was discovered by Paul Marciano of Guess, eventually becoming one of the world's 20 highest-paid models. She left modeling for music, and her first album, Quelqu'un m'a dit, was a hit in several European countries. Bruni whispers on the album, "Love, I do not wish. I like it from time to time. I prefer the taste of the wind and the strange and soft skin of my lovers, but love…not really."
Her second album, aptly titled No Promises, came out last year, and a third is due this fall.
Bruni clearly has taste. She wears lots of Prada and Jean Paul Gaultier, and for her wedding she chose Hermès by Gaultier over the Chanel sketches that Karl Lagerfeld submitted because she wanted something less formal. And if more proof is needed of her style, she gave her new husband a Patek Philippe Ref. 3940 wristwatch that she bought at auction—the same model my dear uncle Siegfried sold at auction several months ago (I'm not suggesting what you think I am).
Obviously she knows how to make her husband happy. After all, Sarkozy has a well-known watch fetish, and now it appears to extend to fancy pens. Many of my French friends were appalled by a video on the Internet showing
Sarkozy on a visit to Romania. He signs a document and keeps looking at the pen. Finally, he leans in and whispers to his Romanian counterpart, who gives him the pen, and Sarkozy promptly puts it in his pocket.
Perhaps his new wife can write a song about their shenanigans with it, as she sits in her music studio at the palace, strumming a guitar with her long, long legs tucked up under her.
It should be interesting. All I can do is paraphrase Marie Antoinette, who supposedly said, "Let them eat cake." In the Sarkozys' case, "Let them hear music!"