INSTAGRAM FEUD OF THE WEEK
Louise Linton Really Wants You to Know That She's Wearing Hermès and Valentino
The actress and wife of Treasury Secretary Steven Mnuchin is taking it to the comments section.
---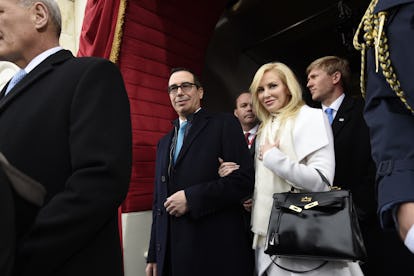 Pool/Getty Images
Louise Linton, wife of Secretary of the Treasury Steven Mnuchin, has given up so much for her country. But at least she's done it wearing #Valentino #rockstud #heels and an #Hermes #scarf. On Monday, Linton and Mnuchin flew to Louisville, Kentucky, where Mnuchin and Senate Majority Leader Mitch McConnell were slated to discuss changes to the tax code. Shortly after arriving, Linton posted a photo of herself disembarking from the government-issued private jet and captioned it, "Great #daytrip to #Kentucky! #nicest #people #beautiful #countryside #rolandmouret pants, #tomford sunnies, #hermesscarf, #valentinorockstudheels #valentino #usa." (That last hashtag, in case anyone missed the large "United States of America" printed across the side of the plane.)
But the most peculiar part of the post wasn't even that the wife of a government official was using more hashtags than a lifestyle blogger, or that she was touting her luxury brands while accompanying her husband on an expedition to create massive tax cuts for the wealthy. No, it was Linton's response to a commenter who wrote, "Glad we could pay for your little getaway." Linton lashed back with a screed about self-sacrifice and how much she and her husband pay in taxes. "Have you given more to the economy than me and my husband? Either as an individual earner in taxes OR in self sacrifice to your country? I'm pretty sure we paid more in taxes toward our day 'trip' than you did," she wrote. (Lest we forget, Linton is the one who hashtagged, "#daytrip.")
The New York Times noted the similarities between Linton and the president, describing Linton's comment as taking "a page from President Trump's social media playbook for punching down." Like Linton, the president himself recently came to the realization that holding public office is not easy, and that being really absurdly wealthy is a lot more comfortable than being president. "I loved my previous life. I had so many things going," he told Reuters in April. "This is more work than in my previous life. I thought it would be easier." Good thing they retain some of their old creature comforts and his wife still gets to wear Delpozo and lots and lots of Dolce & Gabbana.
"Do you think the US govt paid for our honeymoon or personal travel?!" she continued in her response on Instagram. "Lololol." The Washington Post pointed out it's actually quite uncommon for a Treasury secretary to fly on a government plane for domestic trips; private planes are usually reserved for international travel, while Mnuchin would be expected to fly commercial to Louisville.
The Scottish actress proceeded to make her Instagram private, but screen shots of the exchange have already circulated on Twitter. "If she hadn't made her account private, I would have written back with a very snide Marie Antoinette joke," the original commenter, Jenni Miller, told the New York Times. "She had to go on basically a rant about it to make herself look more important and look smarter, better, richer." (One intrepid Wikipedia user has already updated her page referencing the exchange.)
Linton's tone-deaf response to her tone-deaf Instagram should actually come as little surprise, given that she has already proved she lives inside the Kendall Jenner Pepsi ad. Last year, she published a memoir entitled In Congo's Shadow, about the "living nightmare" of six months she spent in Zambia as a teen. An opinions column for the Washington Post referred to the memoir as the "perfect white-savior-in-Africa story." The Telegraph, which had published an excerpt of the book, retracted it and issued an apology. And in OkayAfrica, Alyssa Klein, the site's senior editor and the social media manager for the Women's March, called the book "bafflingly idiotic and certainly fabricated." Louise Linton: selfless woman of the people, egalitarian icon, humanitarian of the year in spotless Valentino pumps.
Related: Donald Trump and Family Seem Upset They Can't Make Money Off White House
Jodie Comer's parents aren't thrilled with her White Princess nude scenes: