Polo, Gstaad-Style
The Countess ponders the news that Ralph Lauren is coming to her sleepy—but wealthy—alpine hideaway.
---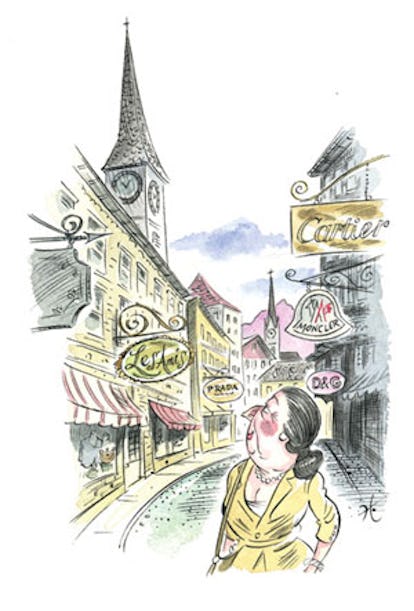 People don't believe it, but things do happen in the mountains.
On a spring day, I sat out on my deck in this village, looking at the green, green mountains glowing with buttercups; the sapphire blue sky; and the cows, bells rhythmically clanging, roaming up into the Alps. I stared at the prunus trees, their pale pink blossoms floating in the air like snowflakes.
I was just dozing off, ready for a little nap, when the telephone rang. One of my merchant friends had called to inform me that Ralph Lauren was opening a boutique in Gstaad, in a space currently occupied by the shop Les Amis. Willing to do anything to chase a juicy rumor, I rushed down the hill to the pedestrian-only Promenade, the village's main street, to see the three-story site. And what a sight.
On top of the future Ralph Lauren store is a church steeple. I thought, Are they going to ring the bells to bring in customers? It turns out the belfry is mere decoration.
As I wandered along, I mulled over the meaning of Mr. Lauren's arrival. First of all, he's going to face formidable competition. In this village of 3,000 year-round inhabitants, there are stores where Dolce & Gabbana, Prada, Moncler, Hermès, Lacoste, Cartier, Chopard, Patek Philippe, Rolex and Vacheron Constantin, to name just a few, can be purchased. The famed boutique Lorenz Bach already carries Ralph Lauren.
One wonders whether all these stores are here simply to wave the flag or to actually make money. If you can find that out in Switzerland, you're a genius. One also wonders whether Mr. Lauren realizes this is a very seasonal locale (although he already has stores in such similar spots as Nantucket, Aspen and Southampton). The shops in Gstaad are closed from April, right after Easter, until June, and the village isn't just sleepy during those times—it's downright empty. Sure, people still go to the Coop to buy groceries, and those who can afford it pop into Pernet for food joys of every description (including vegetables, which the proprietors keep fresh overnight by pulling a glass partition around them and turning up the cooler), not to mention one of the best wine cellars around. But otherwise it's sedate. The biggest event recently was the fair of the cows and bulls. Before the farmers release their herds into the mountains for the summer, they parade their chicest bovines through the village. The farmers are clad in spotless blue smocks, and the cows are clean and well coiffed, with masses of flowers in their hair. It's a contest—and may the best-dressed cow win.
And while there is lots and lots of money in this county of Saanen, 3,400 feet above sea level, it isn't always a safe bet that people will spend it. The oligarchic Russians planned on invading Gstaad not too long ago, and on the site of a torn-down alpine hotel, another was built, with some of the biggest and most expensive apartments around (the top ones cost $20 million, give or take a million or two). The oligarchs handed over their deposits, but then their fortunes went phffttt in the stock market meltdown and they lost those down payments.
I don't want to paint Gstaad as dull (although perhaps I should so more people don't disturb my peace). Face it, plenty of famous people have lived here and continue to do so: Valentino, whose pugs are pranced down the middle of the street by his liveried staff, a sign King Val is in residence; Julie Andrews, who came up with the idea to line the village's chalet roofs with tiny lights at Christmastime; Elizabeth Taylor; Sean Connery; Roman Polanski; Jeanne Moreau; columnist Taki Theo­doracopulos; Alinghi yachting syndicate boss and billionaire Ernesto Bertarelli; and French pop singer Johnny Hallyday (when you walk down the street, French tourists stop you to ask where Hallyday's chalet is located). There is not only fantastic skiing but also ballooning, parasailing and lots of hiking—not to mention more than 70 top restaurants, some of which are in the Gault Millau.
That could be why Mr. Lauren is eyeing the place. And if he does come, the villagers, dressed in their native costumes, no doubt will loudly blow their alpenhorns in welcome.