The Countess Reboots
Taking a page from the dashing new president, Louise calls for a fresh outlook.
---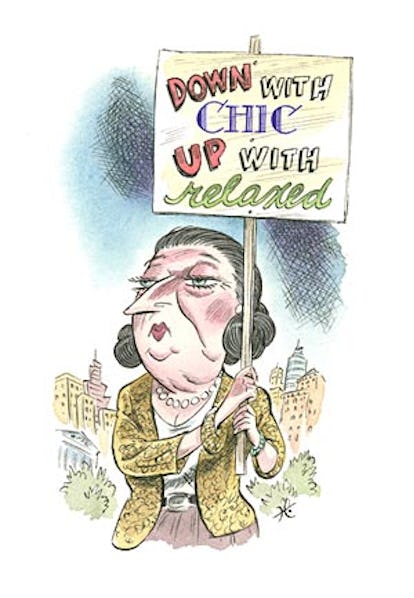 There's one thing I have never enjoyed—or even accepted—and that's change. Call me a stuck-in-the-mud old countess, call me a snob, but I have always liked things just so.
Until now. President Obama has changed me. I realize that I must go with the flow, although I don't quite know where the currents will carry me. I haven't always resisted the occasional adaptation—after all, I do try to stay au courant. For example, when I used to ski in the Tirol, I would restore my energy by eating raw bacon and drinking slivovitz. What a difference it made!
Let's get serious, though. Following are the changes I suggest for the difficult days ahead.
Of course, I've long swirled in a world that capitalizes on change—fashion. One season something is in, the next it's out. Skirts go up, then they go down. Pants are chic, then they're passé. It's all a conflict.
So what to do? Well, as much as I am loath to say it, in this new Obama era, just wear what you want! Don't overdress given the recession, but underdressing seems to be okay. You can show your navel; tighten your trousers front and back; walk around in pajama bottoms with words across the backside; carry huge handbags—and even backpacks at the same time to keep all your belongings with you—and totter around in spike-heeled boots. As for men, it seems dressing up is de rigueur in this administration, but even here there are few rules. Anything goes: A suit jacket with ripped jeans and scuffed shoes; suits cut so tight they look like you borrowed your little brother's—or double-breasted and so baggy you resemble a mafioso; wrinkled clothes that look like you slept in them…they're all okay. Take President Obama's white tie with a tuxedo by Hart Schaffner Marx, which filed for Chapter 11 bankruptcy just after the inauguration. Now, where I come from, white tie generally goes with tails—perhaps they ran out of cloth to finish the jacket.
It's become chic not to be chic. The main thing to remember is that fashion of any kind is a seductive force—so go out and shop because it's good for the economy. The problem is that some designers, big fashion companies and retailers—be it Wal-Mart, J. Crew or a high-end boutique—have forgotten that consumers at any price level want seduction, not just cheap.
Face it, we all need to be more relaxed like our new president, even if he's a bit beleaguered lately. I could swear that one of the early photos of him walking back to the Oval Office after a meeting on Capitol Hill showed him whistling. Even the French say they like Obama because he's décontracté.
As Nike says, "Just do it," although even I know they are talking about something else. Show your body, if you dare; plump your lips; smooth your brow; whiten your teeth; and walk with a presidential strut. But don't flaunt your big car or talk about your "staff"—it's in bad taste. As for being social, the focus today is more on the political meaning than the packed-calendar one.
There are good aspects of change, after all. It's time to stop saying negative things, and that especially goes for reviewers of plays, books and movies. They should all lighten up. Not everything is Shakespeare, Tolstoy or Truffaut—and it can still be entertaining and interesting.
Staying up-to-date is vital in this world of tectonic changes. From the big-bucks bankers and chief executives who spent millions on their offices and private planes—and were paid millions even as the government bailed out their companies—to Hollywood celebrities and sports stars, they all need a reality check. Whistle the Bob Dylan song if you require reminding.
But as the president says, it won't be easy. Change takes effort and focus. We need to ask ourselves: Are we fat and lazy (like moi), or are we ready to rush into the new era, lean and mean? I'm doing toe touches to get into shape.
Because it's time to stop criticizing the past and look to the future. Not to be rude, but it's time we pick ourselves up, dust ourselves off and start all over again. Think positive.