Lourdes Leon, Madonna's Daughter, Just Made Her New York Fashion Week Debut
Lourdes Leon, daughter of Madonna, hit the runway for Gypsy Sport's Spring 2019 show.
---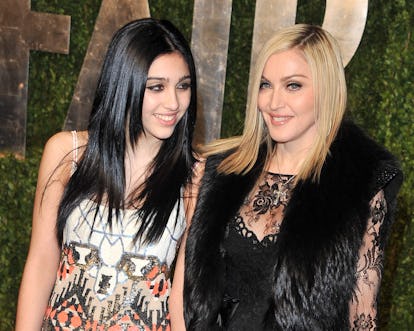 George Pimentel/Getty Images
Madonna's daughter Lourdes Leon rarely makes a public appearance, but on Tuesday night she stepped out into the spotlight for fashion's sake.
Though she has never walked a runway in New York before, the 21-year-old scion walked in Gypsy Sport's Spring 2019 show. The model made her New York Fashion Week debut in a pair of the designer Rio Uribe's tattered, ripped jeans, body-chain shells, white dad sneakers, tiny sunglasses, and a green leaf headdress. As the designer's Instagram bio says, "Category is: Genderfree Fashun with a sustainable twist."
At just 21 years old, Leon has already gone through quite the style evolution—her look for the Gypsy Sport show is a stark contrast to some of her more conservative looks in the past, like the print dress she wore to the 2011 Vanity Fair Oscars party with her mom—but in her Fashion Week debut, she perfectly fits the Gen Z earth mother aesthetic on display with the rest of the show's cast of all genders.
Before her runway debut in New York this year, Leon had previously modeled for a special Converse collection and appeared at Alexander Wang's Spring 2017 New York Fashion Week show, but in contrast with her mother, she tends to keep a low profile for the most part. For example, while her mom's big birthday bash in Marrakech was written all over Instagram this year, Leon is notably absent from the world of social media (or at least, she has yet to share any sort of public social profile like her mom's). So while Leon gave everyone a sneak peek into her flourishing style and budding modeling career, don't expect to catch her posting any of these looks to Instagram (or anywhere else) anytime soon.
Related: How Lourdes Leon Went from Wearing Juicy Couture to Alexander Wang