Meet Lucas Zwirner, the Heir Reimagining David Zwirner Gallery One Book at a Time
The son of mega-gallerist David Zwirner is making his mark in print.
---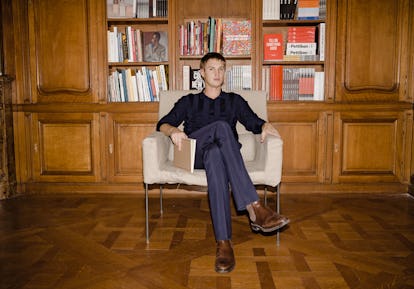 Photograph by Ryan Lowry. Styled by Nora Milch; Hair and makeup by Mia Santiago for Oribe and NARS Cosmetics at See Management; Photography assistant: Tim O'Connell; Fashion Assistants: Deanna Giudenian, Emma Metz.
In 2015, Lucas Zwirner, a Yale-educated literature aficionado who had envisioned a career in philosophy, was successfully lured into the family business with his father's promise to grow their art gallery's eponymous publishing house, David Zwirner Books. "I realized that rather than writing alone, I would rather be working on a project with a group of people," explains Zwirner, 27, who, along with his team, now works with artists on various editorial ventures. "I'm trying to focus on projects that extend the gallery's reach beyond monographs."
At the moment, Zwirner oversees 25 book releases a year as editorial director. "[I want] to look at the intersection of writing and visual art and make something interesting happen," Zwirner says. His favorite project to date is a series of pocket readers (the ekphrasis series) that feature out-of-print essays, and a facsimile of an original notebook that belonged to the artist Anni Albers, which is the best-seller.
But his foray into art is no surprise, as it has been ingrained in his life for as long as he can remember. "I sort of had these connections to artists and a way of looking at art that was crucial early on," Zwirner recalls. Many of his formative memories involve visiting his grandfather, also a gallerist, over Christmas in Berlin, or hanging with various Zwirner artists, such as Raymond Pettibon, who drew a wave in his family's home on his father David's birthday—or Jason Rhoades, with whom he would dirt-bike in Long Island.
Zwirner's plans for the blue-chip gallery, which is celebrating its quarter-century anniversary this year, expand well beyond books: "We're using the 25th year to explore things we haven't done previously." This includes projects such as a monthlong pop-up at Pilgrim Surf Supply in the Hamptons this summer (which will host a series of artist talks), a bilingual collection under the David Zwirner Hong Kong Book Series, and even an upcoming podcast series in which the gallery will pair an artist with a cultural figure to discuss a topic of their choice.
"The idea is to bring a whole new audience to that artist," Zwirner explains, noting that the interlocutor could be anyone from a fashion designer to a politician. "Visual artists are beginning to occupy a front-row seat in the cultural conversation, whereas 50 years ago writers played bigger parts." In addition, David Zwirner will showcase limited-edition prints, lithographs, and silkscreens by the gallery's artists. "The core of the program, of course, remains Zwirner's inventive book releases, such as the upcoming Re-reading Pettibon's Twitter, an in-depth analysis of how the artist engages with social media, and What It Means To Write About Art, where renowned critics become the subjects. "What's most important about the 25th anniversary is that it's the occasion for beginning these initiatives, but it's not like they'll end," Zwirner said. "Once they launch, each project will become its own thing."