Luka Sabbat Has Arrived at Art Basel Miami Beach, Fully Prepared to Troll
The model-slash-influencer would like to sell you some $100 bills.
---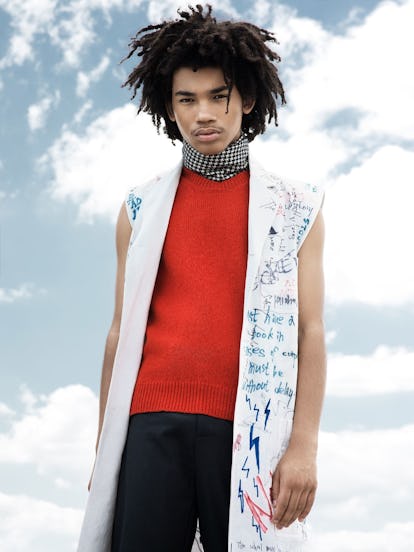 Photography by Matthew Priestley. Styled by Sam Walker.
Luka Sabbat has been in the public eye ever since he was a teen, when Virgil Abloh and Kanye West began referring to him as a "young creative." But the headlines have taken on a new life in the weeks leading up to, and following, his 21st birthday late last month—a milestone he celebrated with, among others, 39-year-old Kourtney Kardashian, whom he's reportedly been "getting cozy" with as of late. But that's just one of recent developments in Sabbat's increasingly visible personal life: The previous month, Sabbat also made headlines for becoming perhaps the first person in the history of the human race to be sued for "failure to influence." (Snapchat has accused him of what can only be described as an extremely 21st-century crime: neglecting to Instagram himself wearing their sunglasses, aka "Spectacles.")
After these whirlwind past few months, you might expect Sabbat to be laying low. On the contrary, he's doing the exact opposite. This Thursday, Sabbat and the photographer Noah Dillon, who makes up the other half of their creative project known as Hot Mess, will join the hordes heading to Art Basel Miami Beach to mount their most high-profile solo exhibition yet. An "in-depth look at how capitalistic values are woven into the American cultural fabric," FREE MONEY, which opens Thursday at TheArtpark, a new project space in the Miami Design District, just so happens to tackle some of the topics that appear to have been cropping up in Sabbat's personal life. In other words, as the pair put it in their artistic statement, it's "all about the Benjamins baby." That goes well beyond simply referencing Puff Daddy: The exhibition is mainly composed of 300 framed, for-sale $100 bills, whose prices range from $1 for the kids that roll up to around $30,000 for the usual Basel collector types.
When Sabbat and Dillon launched Hot Mess last February, after meeting through DM on Twitter, the pair were emphatic that none of their endless flow of "new content" would be of a political nature. And, despite the sentences like "Money talks. It is power. It makes the world go round. It determines how we consume and even how we vote" that litter their artistic statement, they've remained adamant that Hot Mess is not about politics. According to Sabbat, it's much simpler than that: "It's kind of just to troll right now. Trolling is kind of an art in and of itself, because it's fun. It's entertaining to do," he said matter-of-factly.
Dillon, on the other hand, thinks it goes a bit deeper—but only up to a certain point. "It's kind of stupid what we've done, even though there's a level to it that we take seriously, and that's very critical," he said, before abruptly switching gears. "But the whole industry's also kind of a joke, low-key," he added. (Asked to clarify which industry he was referring to, he continued: "Just kind of in general. Look at the Internet; look at anything that we're around right now. It's all just kind of a big joke, so why not join everyone in being a part of it?")
Dillon has a perfectly impressive number of Instagram followers compared to most 24-year-olds—around 23,000, or about 7,000 fewer than their account for Hot Mess—but he's perfectly aware that it's nowhere near the league of Sabbat's whopping 1.5 million. To Dillon, apparently, that contrast is even more significant to their collaboration than their personal connection. "Luka and I are from two totally different places, but at the end of the day, the common denominator is the dollar bill," he said. "We're all just trying to get money, and that determines everybody's value and worth. It's a fact and everybody knows it."
Rather than keep the focus on themselves, they opened things up to a national scale, putting out an open call on Instagram for contributions to the video they also plan to display, featuring "images of life and consumerism in the Land of the Free." They also, of course, enthusiastically scaled up to Art Basel's platform, and its promise of a wider reach—though not without making it clear that they would have preferred to have done so at the fair's main branch instead of its American outpost by designing their most "troll T-shirt of all," which bears the slogan "Not Switzerland" in all caps.
In case you hadn't already assumed so, yes, the exhibition will be accompanied by a line of Sabbat- and Dillon-designed merch, including some one-of-a-kind designs for the opening. ("You'll see 'em on my [Instagram] Story," Sabbat assured.) For those who can't make it to the opening, there's also a line of tees and sweatshirts emblazoned with, for example, a mini history lesson about the history of welfare in America, illustrated with portraits of Franklin Roosevelt and Bill Clinton.
All that has had the pair running a bit behind schedule; in what Dillon described as "classic Hot Mess fashion," they made most of the merch over the course of a single night this past week. In a way, though, their job was done all the way back in October with the roll-out of FREE MONEY's accompaniment: FREE ADVERTISING. For the most part, it's exactly what it sounds like: a series of faux, inoffensive, and therefore entirely believable campaigns for brands like Chevrolet and the North Face, which they not only went to great lengths to produce, but also mounted on billboards across the country, from Colorado to Nebraska.
Sabbat, perhaps owing to recent experience, almost immediately rattled off the reasons why the series hasn't yet—and likely won't—lead to a lawsuit. "They'd have to send a cease and desist before they even sued us, and none of them did, which is great," he said. "We didn't do anything mean, and we're trying to make it tasteful. I think we're pretty aware of what we're doing, and we're kind of doing their job for them."
It's not exactly clear why they'd devote their own time and resources to promoting "brands that potentially would have hired us or have hired us in the past." Nor is it exactly worth considering, given that you could be spending your time examining the series's gem, which is composed of six images of Sabbat's face beneath the headline "Luka Sabbat Sued for Failure to Influence." There's more text, too, though in the case of the phrase "Snap Spectacle," some of it has been blacked out, sabotaging Snapchat's last chance at his promised Instagram. In true troll fashion, they've given it the title "Skeptical Spectacle," as Sabbat shared in the caption of a photo he posted of himself standing in front of it, wearing a pair of definitely-not-Snapchat-designed glasses as his final act of defiance.
Related: Introducing Luka Sabbat's Hot Mess, His First "Not Fashion" Creative Project
Luka Sabbat Is a Fresh New Face
Raf Simons coat, $1586, sweater, $296, and scarf, $386, rafsimons.com.

Photographer: Matthew Priestley Stylist: Sam Walker
Dior Homme sweater, $750, diorhomme.com.

Photographer: Matthew Priestley Stylist: Sam Walker
Raf Simons pants, $554, rafsimons.com.

Photographer: Matthew Priestley Stylist: Sam Walker
Dior Homme coat, price upon request, sweater, $1,000, and shirt, $600, diorhomme.com.

Photographer: Matthew Priestley Stylist: Sam Walker
Louis Vuitton jacket, price upon request, louisvuitton.com; Martine Rose top, price upon request, martine-rose.com; Raf Simons pants, $554, rafsimons.com; Vans shoes, $75, vans.com.
Grooming by Scott McMahan. Produced by Biel Parklee.