Kourtney Kardashian Was Spotted Getting "Cozy" With 20-Year-Old Luka Sabbat
She reportedly split from Younes Bendjima in August.
---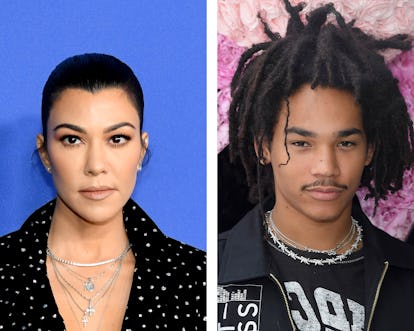 Composite. Getty Images
Malibu sushi dates notwithstanding, Kourtney Kardashian and Younes Bendjima appear to have broken up for good. The news comes courtesy of several tabloid headlines, which claim that the eldest KarJenner sister has moved on to Luka Sabbat, a 20-year-old model and actor you might recognize from Grown-ish and various fashion front rows. Both Metro and Entertainment Tonight described the pair as "getting cozy" while spending almost the entirety of last weekend partying together.
According to Metro, the festivities began on Friday at The Nice Guy in Los Angeles before continuing at the Chateau Marmont. The next day, Metro reported, the two continued on to Chicago, where they attended not one, but two openings: TAO Nightclub's Chicago opening and FOUND Hotel. PDA reportedly took place, according to an unnamed "source."
"[They were] loving on each other, sitting together, holding hands," a so-called eyewitness told Entertainment Tonight.
While the tabloids all included photographic evidence of the two being in the same vicinity, not all of them were convinced of the level of "coziness" reported by Metro and ET. The story published in The Sun (and later reprinted in Page Six, for example, merely refers to them as first "friend[s]" and then "pal[s]."
Whatever the nature of their relationship (or lack thereof) may be, neither Kardashian nor Sabbat have commented. It's also worth noting that Sabbat is quite friendly with the wider Kardashian-Jenner clan, Kylie and Kendall Jenner in particularly. He was also most recently linked to Sarah Snyder, Jaden Smith's ex.
For what it's worth, Kardashian actually never confirmed she and Bendjima broke up (TMZ broke the news, while the two unfollowed each other on Instagram), and they were spotted early in September feasting on some sushi in Malibu.
As for Bendjima, he too was spotted getting cozy back in August—this time with Instagram model Jordan Ozuna, who was previously involved with Tyga, Kylie Jenner's ex. Ozuna, however, later told E! News they were "nothing more than friends having fun at the beach," citing a "mutual friend's" birthday party in Mexico as the catalyst for their meeting. Meanwhile, Bendjima opted for a statement with a little more brimstone:
"They really want me to be the bad guy," Bendjima wrote on Instagram. "F*ck your Hollywood bullshit. Once again you guys failed. I'm not attached to this 'life' so you can't touch me. I know who I am, where I'm from, and where I'm going and that bothers you. Only one opinion matter [sic]: The one of my Lord. Have a wonderful day."
Related: Luka Sabbat's Insta Stardom