Kourtney Kardashian's Breakup With Younes Bendjima Actually Happened a Month Ago Because He Cheated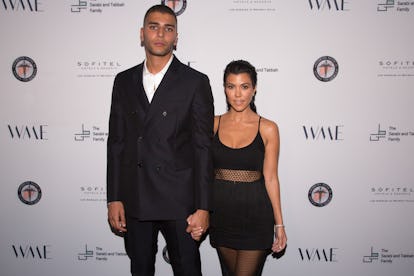 Gabriel Olsen/Getty Images
Yesterday, news spread of Kourtney Kardashian's breakup with her boyfriend of almost two years, model Younes Bendjima. As it turns out, though, the reality TV star and mom of three has been single longer than that. TMZ reports that the pair originally broke up a month ago when Kardashian received intel that Bendjima was cheating on her.
That means Khloé and Kim Kardashian's recent comments about Bendjima make a lot more sense now. Yesterday, after the breakup was reported, the sisters responded to photos of Bendjima embracing Tyga and Justin Bieber's past fling, Jordan Ozuna. Bendjima shared the photos on his own Instagram, writing, "They really want me to be the bad guy. Where are my 12 other friends?"
When a screenshot of his statement on Instagram stories hit Kim Kardashian's feed, she commented "Nice pics from your 'boys trip,'" with an emoji that has a Pinocchio nose.
Khloé, meanwhile, suggested Bendjima was lying as well when she commented "Alexa play 'heard it all before' by Sunshine Anderson." The song she was referring to is a 2001 R&B track where Anderson sings lines like, "Smelling like some fragrance that I don't even wear" and "your lies ain't working now look who's hurting now."
As for Ozuna, she has since said that she is not dating Bendjima. "Younes and I are not involved romantically at all," she told E! News. "We were both invited to Mexico for a mutual friend's birthday party with 13 other people…. It was nothing more than friends having fun at the beach."
But none of that even matters, as Kardashian reportedly broke up with Bendjima before he took to Instagram to throw shade. Last month, Kardashian shared a photo of herself in a thong bikini with the caption, "Don't be shady, be a lady." Bendjima commented on the post, "That's what you need to show to get likes?," before later deleting it.
"He never liked that she posted sexy pictures of herself on social media," a source told People. "He doesn't want his girlfriend to do that. He gets that it's her job, but wants her to post more covered-up pictures… He has always had a problem with this. This is the stuff they argue about and what made them split in the past."
Now, however, it seems like their issues ran deeper than that. Either way, Keeping Up With the Kardashians has quite a lot to tackle this season.