Younes Bendjima Has a Lot of Explaining to Do
The 25-year-old ex-boyfriend of Kourtney Kardashian insists that he hasn't moved on to another woman just yet.
---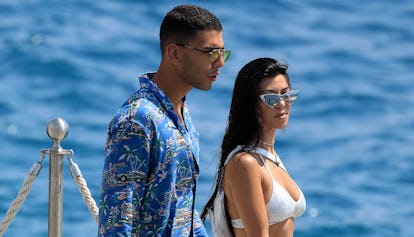 Robino Salvatore/GC Images
Younes Bendjima, Kourtney Kardashian's 25-year-old ex-boyfriend, has a lot of explaining to do.
It was not too long ago that the couple was vacationing together peacefully in the Mediterranean, but after the news broke on Tuesday that Bendjima and Kardashian had split, Kim Kardashian West and Khloé Kardashian rallied together to side with their sister. The couple was together for about a year and a half before rumors began to fly that they had broken up over a misconstrued Instagram comment from Bendjima on one of Kardashian's posts.
Bendjima was spotted in Mexico without Kardashian yesterday, which sparked even more rumors that the model had already moved on to someone else: Jordan Ozuna, an ex-girlfriend of Tyga (who was notably involved with Kylie Jenner for almost two years before she began dating Travis Scott). However, the suggested drama appears to be just unsubstantiated claims, according to Bendjima.
Bendjima responded to the rumors in the press by using none other than Instagram Stories, writing, "I'm not attached to this 'life' so you can't touch me." Of course, the eagle-eyed celebrity social media watchdogs Comments by Celebs managed to catch Kardashian West's response to Bendjima's plea that the media had gotten everything about his trip to Mexico all wrong. "Nice pics from your 'boys trip,'" she wrote, complete with a Pinocchio nose emoji to imply that Bendjima is lying.
Khloé Kardashian—who is understandably defensive about failed relationships and alleged cheating scandals in her family—commented on a screenshot of Bendjima's story (in which he called out the Daily Mail for fueling the rumors that he had already moved on with someone else), "Alexa play 'heard it all before' by Sunshine Anderson."
Pinocchio accusations aside, Bendjima did get some backup when it came to shutting down rumors. Jordan Ozuna, the woman Bendjima was spotted with in Mexico, still insists that she and the model have nothing to do with each other as far as romance goes. "Younes and I are not involved romantically at all," she told E! News in an exclusive statement. "We were both invited to Mexico for a mutual friend's birthday party with 13 other people," she explained.
Despite allegations that Bendjima and Ozuna were making out in public on the beach after photos of the two cuddling together surfaced, she continued to insist that any claims of the sort are false. "It was nothing more than friends having fun at the beach," she went on. "No, we aren't romantically involved in any way, shape or form."
Regardless of how or why Bendjima and Kardashian broke up, or whether or not Bendjima and Ozuna are covering up a new relationship, at least we know that all of this drama will be fully unpacked on the latest season of Keeping Up With the Kardashians.
Related: Kourtney Kardashian and Boyfriend Younes Bendjima Have Reportedly Broken Up