Lupita Nyong'o Designed Her Mom's Dress for the Black Panther Premiere
And she designed her mom's dress.
---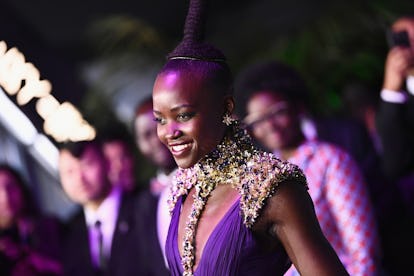 Emma McIntyre/Getty Images
Ever since her rise in 2013 with her breakout performance in 12 Years a Slave and her subsequent historic Oscar, Lupita Nyong'o has become a red carpet favorite. The actress' bold style can always be counted on as a source of intrigue and excitement at events, and the Black Panther premiere was no different. What was surprising, however, was that the film's star experimented from the other side of fashion and designed a dress for her mother.
Nyong'o shared the look, which has all of the hallmarks of her own style. The textile-showcasing gown was created by the actress in collaboration with Los Angeles-based African retailer Kutula. "My mummy looked so pretty at the @blackpanther premiere! @kutula and I designed her dress. #humblebrag #BlackPanther," she wrote on Instagram, in the caption of a photo of Nyong'o alongside her mother Dorothy, who accompanied her to the premiere.
The dress wasn't just special because Nyong'o made it for her mother — it was also a nod to the origins of her character Nakia. "Collaborating in the spirit of Wakanda unity," as the dress was described on Kutula's Instagram. For those who aren't yet familiar, Wakanda is the fictional African nation of the Marvel Comic. In the comic, Nyong'o's character Nakia is selected to belong to the Dora Milaje, a special force that protects Wakanda and the superhero T'Challa played by Chadwick Boseman.
"W A K A N D A F O R E V E R ! !," Nyong'o wrote in the caption of another Instagram post, depicting her friends Ben Kahn and Dede Ayite. "@blackpanther #SquadGoals"
Nyong'o also shared other snapshots of her own look to the premiere: a Versace gown, Giuseppe Zanotti shoes, and jewels from Beladora. "Purple Reign. #BlackPanther #WelcomeToWakanda," she wrote in the caption.
The actress recently opened up about the importance of Black Panther to The Hollywood Reporter, describing it as a meditation on "what it means to be from a place and welcome others into it. T'Challa is the leader of an isolated nation that has managed to keep its autonomy and be self-determining because it has shielded itself from colonization, and how does that nation now relate with the rest of the world?" Considering it already broke a pre-sales record a full month before its February 16 release, the message is clearly resonating.