The Lyell File
Out of a cozy boutique springs a label for a certain grown-up clientele.
---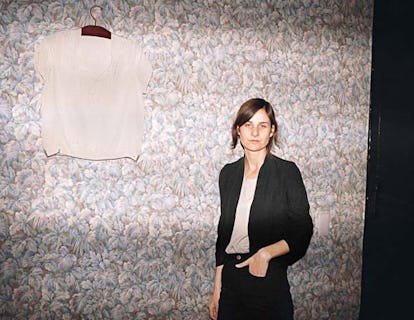 Nestled in the back of a café in New York's NoLIta neighborhood, maroon cardie wrapped tightly around her narrow frame, Emma Fletcher closes her eyes while recalling a painful moment from last year. "I felt like I astral-planed, like I wasn't even present," she murmurs. "I hadn't slept in days." Suddenly she straightens up, brightening. "But now I feel like if I did another one, it might be fun. Not so dark."
A look from Lyell's spring 2009 collection.
A designer who professes to be far happier tucked into her jewel-box boutique on Elizabeth Street than taking bows at her first runway show—the source of the aforementioned distressing memory—Fletcher, an Aussie who moved to New York in 1994, is something of a designer anomaly: She doesn't sew or sketch, and she'd sooner trawl stores for wallpaper fabric than seek inspiration from some far-flung locale or glossy pictorial. Just try extracting the story of how, precisely, she ended up conjuring Lyell, the delicate Thirties-vibe clothing line that has attracted such starry fans as Michelle Williams, Natalie Portman and Naomi Watts. "I was working at Tramps"—the now closed rock venue that Fletcher managed—"and I started making things." A few coats and swimsuits, specifically. "I looked in the Yellow Pages to find a patternmaker, and he made my first samples."
Had she been struck by a bolt of creative lightning? Not quite. "I think I was pretty frustrated with my job," says Fletcher, 38, who by 2003 had scraped together enough savings to rent a tiny storefront a couple blocks from her friend Jane Mayle's shop (the pair met via mutual pals in the neighborhood). Tiled in black and white, furnished with a simple wooden desk and stocked with Fletcher's vintage-inflected pieces, the boutique drew the kind of downtown girl whose taste veers more toward ladylike lace than tank tops and leggings. "I'm insecure, because I read about these designers who say they have a design process," Fletcher says. "I don't plan anything! I just have a departure point, and I go."
Often that departure is a vintage frock, which she literally slices and dices into a blouse, a pair of tap pants, even a cocktail dress; she also uses old clothes as inspiration for new designs. One of her first pieces was an ebony wool and silk dress with small deer silhouettes cut below the collarbone; last season an azure blouse featured dozens of pin tucks along the shoulders and neck. As retailer Steven Alan, an early supporter of her efforts, explains, "Emma is able to reinterpret vintage in a way that is current. I appreciate that she gets the details right."
Fletcher broke through the style glut after nabbing an Ecco Domani Fashion Foundation award last year, which gave her the funds for that "terrifying"—though well-received—show at the National Arts Club. Now, on a recent afternoon, a pack of studiously chic women (and one slightly bewildered, gift list–clutching man) riffle through the racks of Fletcher's boutique, also called Lyell, which is her mother's maiden name. When it's suggested that the award and the crowded store are indications that, well, the jig is up, Fletcher winces. She's not ungrateful—quite the opposite, in fact­—but she is anxious about the brutal economic climate. Mayle, for instance, is shuttering her shop and collection this spring. And to a certain extent Fletcher has simply been lucky: In a sea of stores clamoring to get noticed, Williams just happened to stroll into hers, setting off a consistent stream of buyers.
Supported by a loyal following, Fletcher's designs have drawn the attention of boutiques including Confederacy in L.A. and By George in Austin, Texas, both of which now also stock Lyell. To accommodate that growth, Fletcher's boyfriend, Mike Kresse, a former carpenter with a head for numbers, has taken over the business side. "I'd like to open another store, but I'd also like to go against the system a little bit with the schedule," she says, referring to the seemingly endless loop of collections that designers have been putting forth lately. Fletcher envisions producing 10 different pieces every other month, "a continual line that evolves," rather than one divided strictly into seasons. That way she can bounce between her cherished piled layers and wispier, skimpier pieces as the mood strikes. "It's like I swing from a granny to a 15-year-old," she says, laughing. Perhaps, but there's plenty of fare for the ladies in between.