Lyn's Lost World
During her Seventies heyday, Lyn Revson—wife of Revlon mogul Charles Revson—lived in a 28-room apartment and vacationed on one of the biggest yachts in the world. As her formidable fashion collection goes on sale, Lynn Hirschberg rediscovers one of the beauty world's greatest—and most overlooked—icons.
---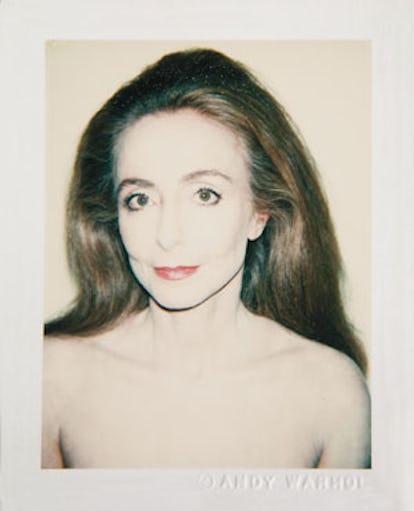 Piled high on the white bed in Lyn Revson's two-bedroom Park Avenue apartment last summer were dozens of Hermès handbags—stunning remnants of another life, another time. Revson, a vivacious beauty with long honey brown hair and striking green eyes, died in June at the age of 80, and though her death didn't rank so much as an obituary in The New York Times, in the sixties and seventies she was a fixture on best-dressed lists and society pages; she even published her own manual, Lyn Revson's World of Style. For a decade, she was married to Charles Revson, the charismatic and mercurial president of Revlon. The couple lived in a 28-room triplex in Manhattan that had once belonged to Revson's competitor Helena Rubinstein, and they vacationed on their yacht, the Ultima II, which was the length of a city block.
Charles was very particular about home decor. He insisted, for instance, that the huge brown-and-white marble tub in his mansion fill up with hot water in two and a half minutes flat, and he had furniture designed with pull-out ashtrays. He was just as controlling of his wife's appearance: Despite Lyn's lovely bosom, Charles demanded that she wear only high-neck clothing, along with Norman Norell's streamlined dresses, narrow pants designed by his tailor William ­Fioravanti, and extravagant Bulgari jewels, which, early in their marriage, he repossessed at the end of each evening.
Lyn usually carried an Hermès bag, and although her life post-­Revson (the couple divorced in 1974) was both less grand and more private, the bags told a different story. The ladylike dark green crocodile purse was once worn to a gala at the Met; the 10 different ­Constance bags in sensible working-woman colors were waiting for a lunch at Swifty's; and the large toile Haut à Courroies weekender still had its tags from the Concorde. Her Hermès collection—along with the hundreds of classic Hélène Arpels size 6½ shoes—was an impressive but melancholy sight. The world they conjured up had all but disappeared.
From her teenage years on, Lyn Fisher Sheresky Revson had a particular sense of style. "If my mother loved something, she really loved it," Susan Walker, 55, the youngest of Lyn's children and the only girl, told me as she sorted through her mother's many boxes of China blue Smythson stationery, all of it personalized with only her first name scripted in white. "She always had taste." Walker pointed to the delicate gold ring on her finger: "My mother picked this ring out when she was 17," she said. "It's Buccellati. What 17-year-old has such elegant taste? It was her ring from her marriage to my father."
Kenneth Sheresky, Lyn's first husband and the father of her three children, had restaurants in New York and was known to be a ladies' man. On a vacation in Miami Beach in the late forties, he tried to seduce Lillian Fisher, Lyn's mother. "My grandmother said, 'You're too young for me,' " Walker told me as she recounted the story. "She said, 'I have a daughter who might interest you.' And that's how my father met my mother."
For her wedding, Lyn, who sometimes worked as a model, wore a midcalf gown with subtle beading—lovely, though not opulent. Sheresky was charming, dashing, and a great raconteur. The couple divorced amicably in 1960, and in 1988, when he was 60, Sheresky dropped dead of a heart attack while walking down a New York City street. Lyn helped organize Sheresky's funeral. "She had an exquisite eye," their son Jeffrey, 58, ­confirmed. "She knew what my father would have wanted."
Lyn's mother, once again, provided the introduction to her daughter's next spouse: Lillian's husband, Larry Fisher, a prominent real estate tycoon, knew Revson, and a date was arranged. Revson had been married twice before and was ­notoriously difficult and brilliant—the visionary behind the growth of Revlon, which he had started with his brother. Among his business innovations were "matching lips and fingertips." Before Revson decreed it, no one had thought of coordinating the two by color. In fact, there weren't many shades available to women until he promoted a wide spectrum of reds, pinks, and oranges with exotic and provocative names. Revson also pioneered perfumes driven by personality—Norell, which he named after the fashion designer, is considered to be the first great American scent—and he ushered in the idea of the supermodel by offering ­Lauren Hutton an unprecedented $200,000-a-year exclusive deal in 1973, marking the beginning of huge cosmetics contracts.
While Revlon was much larger than Estée Lauder, its closest rival in the industry, it was sold in drugstores and had a mass appeal; Lauder, meanwhile, was purchased in department stores and signified class. Revson, fascinated and compelled by the Lauder image and lifestyle, was jealous: He wanted both mass and class.
In a sense, that was where Lyn came in. Twenty-six years younger than Revson, she projected glamour and allure. Her youth also made her, in Revson's hands, somewhat malleable. Perhaps because of his fascination and competition with the Lauder clan and its lavish lifestyle, Revson began to direct every aspect of his life—especially the ­decade he spent with Lyn—toward the invention of a world of grandeur.
The couple wed in February 1964 and celebrated with a reception luncheon held in a private railroad car, followed by a one-month honey­moon in the Caribbean aboard Hollywood producer Sam ­Spiegel's yacht. By all accounts, Charles was mad about Lyn—though he ­insisted she sign a tough prenuptial agreement and, shortly after the wedding, exiled her to a suite at the Stanhope Hotel and had her watched. According to Fire and Ice, the Andrew Tobias biography of Revson, he wanted to make certain that Lyn was no longer seeing the two men she had been dating just before their marriage.
Throughout the courtship, Lyn's children were somewhat oblivious to their mother's social life. "To me, she was just my mom," Susan told me. "I remember her getting dressed to go out, and I sometimes went to fittings with her, but style was never important to me. On my 16th birthday, she bought me a black Hermès Kelly bag," Susan said, smiling. "When she saw that I wasn't wearing it, she said, 'You don't use your Kelly—give it back to me.' "
It's hard to understand how Lyn kept her maternal role separate from the lavish and often public life she led with Revson. While they waited for their palatial apartment to be completed, the family lived in New York City's Waldorf Towers in massive quarters that once housed President Herbert Hoover. Due to Revson's specificity, the triplex took two decorators three years to finish. But in 1969 the family finally moved into a home that boasted a kitchen equipped to serve 100, a ballroom-size dining room with massive silver chandeliers, and a dressing room for Lyn that was decorated in gold leaf and included a 6-foot-tall revolving shoe tree. All the sheets and table linens were designed by Porthault; all the books bound in leather. Revson hired a majordomo—a former steward on the Queen Mary—who oversaw a staff of 43: eight for the Manhattan apartment, four for the country estate in New Rochelle, New York, and 31 for the yacht.
Remarkably, the Ultima II, which was one of the largest private yachts of its time, was more extravagant than the Revsons' apartment. In 1967, Revson had spent a then whopping $3.5 million to buy and refurbish the boat, which had 16 bathrooms, a walk-in freezer, two projectors for nightly movies, and seven perfectly appointed staterooms. And just as he was insistent on customizing every aspect of the yacht, Revson was as adamant about the other details of his and Lyn's life: His three-button suits were always gray or navy, cut slightly pinched at the waist, and featured three flap pockets (one for change), 8-inch double side vents, two buttons on the sleeve, and 3¼-inch lapels; he also owned 86 monogrammed handkerchiefs and 95 pairs of black socks, which he stored in a specially designed glass-front chest of drawers.
Lyn was, in many ways, his style soulmate. She embraced a mix of classic sportswear for day and American glamour for evening—her wardrobe was always lean, elegant, and fairly minimal—and Revson oversaw every part of it. When photographed by Richard Avedon in 1972 for a Vogue story wearing a glittery skintight Norell mermaid gown, her long hair cascading, Lyn described her love for the designer's luxurious fabrics and simple shapes. "[My Norell ­collection] has grown to about 50 things that I wear constantly," Lyn told the magazine, "and about one hundred more that are put away—for the moment." In another picture, she wore showstopping black chiffon evening pants covered in shiny bugle beads. "Everyone asks about these pants," she went on to say. "I thought perhaps it was extravagant to buy, but I found I could wear these pants every night."
Revson was close to his stepchildren—both of Lyn's sons spent every summer working at Revlon—but in many ways, he was like a child himself. "My stepfather was a very complicated man," Steven Sheresky, 60, told me. "He demanded her attention."
In February 1974, on the Revsons' 10th wedding ­anniversary, Charles presented Lyn with a tin can—tin being the traditional gift for a decade of marriage—containing $30,000 and five jeweled Van Cleef & ­Arpels entwined-hearts bracelets, presumably to symbolize the five members of her family. Charles then kissed Lyn good-bye and went to his office. An hour later, she ­received a call from his lawyer. "Charles wants a divorce," the lawyer said. Lyn was 42, and her life would never really be the same.
Some say Revson, who died a year later of pancreatic cancer, knew he was ill and simply did not want to leave Lyn his $100 million fortune. Others speculated—­incorrectly—that he was having an affair with Lauren Hutton. Still others maintained that the two had simply drifted apart. While gossip columns inflated the divorce settlement to as much as $28 million, Lyn probably received, due to the prenuptial agreement, something closer to $12.5 million, which included $2.5 million in jewelry.
Lyn moved to a 12-room apartment decorated by Mark Hampton in a more feminine style: The furniture was mostly white and gold, and the rooms showcased Lyn's amazing skill at needlepoint, spotlighting an elaborate Chinese screen and several intricate rugs. In 1977, at the urging of Lee Guber—Barbara Walters's ex-husband and Lyn's then boyfriend—Lyn began dictating a book about her knowledge of personal style. The cover portrait, shot by Avedon, depicts her as a windswept natural beauty with a freckled nose. She wrote of her love of the sun, of her system of dressing for any occasion, of her pride in her children. She came across as very practical: Find your best look and stick with it; stay away from "gimmicky" clothes; and "know if you're a bore and what to do about it." She addressed the question of marijuana (this was, after all, the seventies) and peppered the prose with photographs of her still glorious post-Revson life. Revson, however, was never mentioned.
For the last four years of her life, Lyn lived in the much smaller rental apartment where she died last summer. Some of her furniture—in addition to the two Warhol portraits she commissioned from the artist in the early eighties—traveled to her new home with her, though over the years she sold or donated many of her jewels and much of her wardrobe. What remained, however, is extraordinary; much of it—­including a Galanos black lace tunic, a blue Hermès mink, and handmade lingerie from Juel Park—is now being sold by Cameron Silver at Decades in Los Angeles.
Along with Lyn's clothing, Silver is featuring her wonderful, enviable bags. Because she was such a loyal and special customer, Hermès artisans invented the "Lyn bag," made of deep red crocodile, with a working clock built into the front flap. "My mother always knew what time it was," Jeffrey told me. "She lived in the moment." It's revealing that Lyn died at home, of no particular illness. "At the end, she said, 'I've lived a life, and I've had enough.' And that was it."
Click here to shop Lyn's fashion collection.
The Doctor Will See You Now
(eye-AG-ra la-TEES-ee-muh)
Fixation on making eyelashes appear thick and erect at all times. Symptoms: Addiction to prescription Latisse or other eyelash "conditioners"; frequent reapplication of mascara. Often diagnosed in tandem with Red Carpet Face—a perma-squint resulting from lids being weighed down with copious amounts of lash.

Illustrations: Melanie Teppich
(peel-EE-me-ah)
Compulsive disorder in which victims exfoliate and chemically plane face—using scrubs, organic fruit extracts, trichloroacetic acid, or vibrating diamond-­encrusted sanding wands—until skin resembles a slice of seared bluefin tuna. Symptom: Dating dermatologists—or at least friending them on Facebook.

Illustrations: Melanie Teppich
(wy-ten-EYE-tiss)
Craving for teeth to appear the color of blackboard chalk. Symptoms: Sleeping with hydrogen peroxide–filled mouth guard; limiting oral intake to pale foods and white wine; recurring dreams involving Clorox.

Illustrations: Melanie Teppich
(blohn-DEE-mee-ah)
Mania to bleach or highlight hair to appear Nordic blonde no matter one's ethnic origins. Symptoms: Hair with color and consistency of straw. Sufferers often seen in proximity of rich men, hot tubs, and reality-TV shows.

Illustrations: Melanie Teppich
(bow-TOX-ee-ah)
Obsessive need for frequent injections of botulinum toxin into one's face in an attempt to be as smooth and wrinkle-free as a fiberglass statue. Symptom: Confusing actual skin with that depicted in magazines.

Illustrations: Melanie Teppich
(tan-or-EX-ee-ah)
Also known as J. Lomia and Bain-de-Soleilitis: Obsessive need for skin to appear the color of a circus peanut or a can of Benjamin Moore's Burnt Cinnamon. Symptom: Thinking Snooki looks "just fine."

Illustrations: Melanie Teppich
(ex-ten-shun-EYE-tiss)
Desperation for Samson-like hair, no matter how expensive or time consuming. Symptoms: Miraculous overnight "growth"; violent reaction to "hair" being stroked, caressed, patted, or pulled.

Illustrations: Melanie Teppich