Something Wicked This Way Comes
Shakespearian Drama at the Park Avenue Armory
---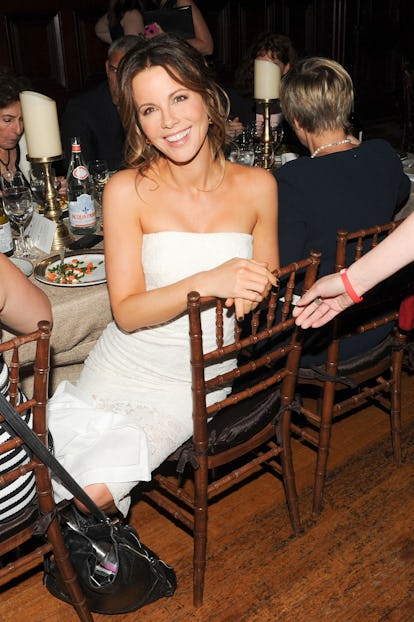 "Stick to the path and follow your clan," intoned a man bearing a lit torch.
No, this was not your average Thursday evening gala. It was the opening night of "Macbeth" at the Park Avenue Armory, and from the moment theatergoers entered the palatial Upper East Side space, they were immersed in the world of 17th-century Scotland. Each guest was assigned a different "clan" (mine was Cawdor) and introduced to fellow members before being led in a processional to the production's epic set, a cross between Stonehenge and a medieval church, designed by Christopher Oram. There, we watched from bleachers as Sir Kenneth Branagh (Macbeth) engaged in a cinema-worthy battle, tossing mud, (fake) blood and rainwater onto the front row—VIPs like Millard Drexler, Willem Dafoe, and Matt Bomer were relegated to the second and third tiers, presumably to minimize the splatter—before transforming, with help from Alex Kingston's Lady Macbeth, into a murderous tyrant.
After the two hour adrenaline rush, co-directed by Branagh and Rob Ashford, select attendees headed up to the third floor for a candlelit and champagne-fueled dinner situated in the Armory's vast, wood-paneled rooms. (Later, they headed downstairs for dessert and to join a purple-lit after-party complete with a whole new crew of revelers.)
"I'm sure you're all starving and contemplating laundry bills given what's happened tonight," intoned Branagh as he thanked the crowd.
One such person might have been Kate Beckinsale, who despite her second row perch had not escaped the drama unscathed.
"Something wet hit my elbow," said the actress, clad in a pristine strapless white dress. "And it came out of somebody's mouth. So it was a very visceral experience."
Photos: Something Wicked This Way Comes
Kenneth Branagh and Alex Kingston. Photo by BFAnyc.com.
Kate Beckinsale. Photo by BFAnyc.com.
Rob Ashford and Alex Poots. Photo by BFAnyc.com.
Matt Bomer and Bridget Regan. Photo by BFAnyc.com.
Jonathan Groff. Photo by BFAnyc.com.
Inside the Park Avenue Armory. Photo by BFAnyc.com.
Jamie Tisch and Renee Rockefeller. Photo by BFAnyc.com.
Princess Gloria von Thurn und Taxis. Photo by BFAnyc.com.
Elihu Rose, Earl Altman, Susan Rose, Linda Altman. Photo by BFAnyc.com.
Inside the Park Avenue Armory. Photo by BFAnyc.com.
Lynn Wyatt. Photo by BFAnyc.com.
Olivia and Adam Flatto. Photo by BFAnyc.com.
Lyor Cohen. Photo by BFAnyc.com.