Mackenzie Foy's Instagram Is a Testament to Her Love of Tae Kwon Do, Disneyland, and Looking Dramatically Into the Distance
A deep dive into the 17-year-old's alternately angsty and sweet IG feed.
---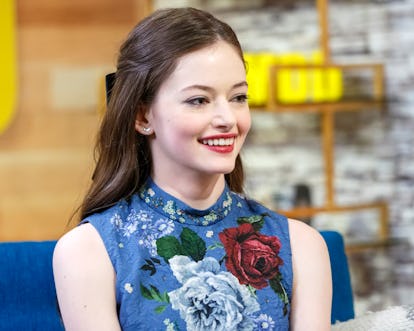 Getty Images/Rich Polk
Mackenzie Foy is just like any other 17-year-old: She spends most of her time hanging out with friends, playing with her dog, reading, and snapping selfies. Of course, those pals include fellow famous teens like Yara Shahidi and Joey King, and those selfies are taken on film sets, at red-carpet events, and in cities like London and Paris, both of which she visits with enviable frequency. There's also the fact that, with the release of The Nutcracker and the Four Realms this week, Foy has officially joined the ranks of the Disney princesses. Other than all of that, though, she's just your average, everyday 17-year-old.
So, okay, Foy's life is a bit more star-studded than most other high schoolers'. Against all odds, though, her Instagram posts actually veer into normal territory on a shockingly regular basis—when, again, there isn't an Oscar winner in the shot. Much like the characters in her new film, Foy's posts can generally be categorized into a handful of, well, realms, spanning her favorite things, her adorable throwbacks, and, like any angsty almost-18-year-old, her moodiest moments.
Prominent among Foy's favorite things, clearly, is tae kwon do. She regularly shows off her black belt–worthy moves, and recently told Seventeen about a physical quirk she's developed as a martial artist. "My right thigh is way bigger than my left. I always thought that was kind of weird. But then I realized that my right leg is my power leg in taekwondo. So this kind of weird part of me is actually really cool, because it's the leg I can kick really hard with," she said.
In an all-too-fitting twist of fate, long before becoming an actual Disney princess, Foy developed an intense and still-ongoing obsession with all things Disney. Not only does she make regular trips to Disneyland but, as evidenced by an interview with Yahoo! this week, she's also well aware of what, exactly, makes a true princess. "What's really amazing about Clara is that she's just an ordinary girl—she doesn't know that she's a princess until she finds herself in the realms," Foy said. "And through her experiences, I think she really learns to be a princess: that it's not about wearing a crown, sitting on a throne. It's about being there for the people that you love, and being strong and kind to people, and being able to trust in yourself and listen to others, and not be afraid to have help."
As for those famous friends, though Foy's spent time with the Gilmore Girls themselves, Lauren Graham and Alexis Bledel, and costarred with Jessica Chastain in Interstellar, she's closest to King and Shahidi. She met King when they costarred in The Conjuring together, and Shahidi on the set of a Guess Kids shoot. In an interview with Elle South Africa in 2015, Shahidi revealed that meeting Foy was a major highlight of her child modeling days. "I do remember always having fun with Guess Kids, because that's where I became close friends with Mackenzie Foy and we would always have a blast on set. We've been close ever since," she said.
Elsewhere on the list of Foy's favorite things are her dog, FireFly—a loyal companion and enthusiastic Halloween costume-wearer—and fantasy novels. Though it may dismay Twilight fans, since Foy played played Bella Swan and Edward Cullen's daughter, Renesmee, in the series' final film, she's an avid Harry Potter fan.
And what would an IG feed be without the occasional #TBT? Though Foy's throwbacks are few and far between, she does occasionally remind us all just how adorable a Renesmee she made.
As a phone-owning teen in 2018, Foy is no stranger to the selfie camera. And while she's not shy about posting a smiling selfie every now and again—typically under the guise of showing off a fierce flick of eyeliner or a perfectly plaited braid in her hair—Foy is even more likely to share shots of herself not smiling, adamantly refusing to make eye contact with the camera, often filtered in black and white. She's even copped to her penchant for moody pics: While showing off a scarf knitted for her by her grandmother back in 2015, she joked, "Now I can dramatically look off into the distance in style." We stan a self-aware teen!
Related: Milo Ventimiglia Loves, Loves Disneyland