Mackenzie Foy Is Taking Off
The Interstellar star discusses her out-of-this-world role models.
---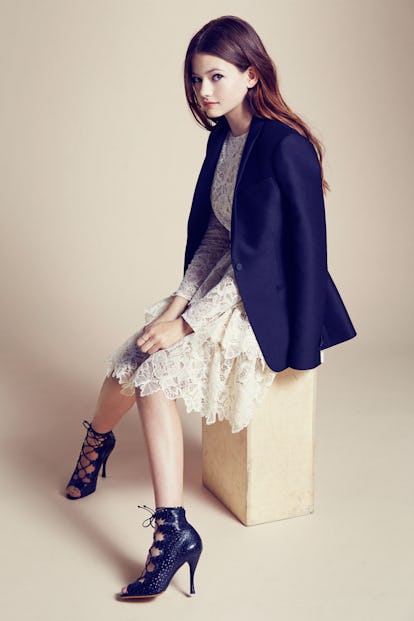 Although still a few days shy of her 14th birthday, actress Mackenzie Foy has had the opportunity to work with the best of the best; her latest project, Christopher Nolan's space adventure Interstellar (out today), has her starring alongside Jessica Chastain, Matthew McConaughey, Anne Hathaway, and Michael Caine. Foy plays Murph, the wise-beyond-her-years daughter of astronaut-turned-farmer Cooper (McConaughey). "Mr. Matthew is amazing," she says. "By watching him I learned how to be more loose." As for Chastain, "I didn't film with her," Foy explains, "but we discussed the character and how to do certain things, like put a pencil in our bun, little things with her hands, what we would do with our mouth, how to act like Mr. Matthew, to make the character more real."
Playing the daughter of a movie star isn't new to Foy—her first film role was as Renesmee, the fast-growing half-human, half vampire daughter of Bella Swan (Kristen Stewart) and Edward Cullen (Robert Pattinson) in The Twilight Saga: Breaking Dawn. On that movie, however, it wasn't Pattinson and Stewart who proved the most influential, but the director. "Working with Mr. Bill Condon inspired me to want to be a director," she says. First, however, Foy will complete a role in the animated film The Little Prince —and attend high school. Eventually, she says, "I want to go to film college to learn about the departments and how everything works. Then I'm going to start directing." God speed.