Madonna Has Been Carrying a Secret Sword In Her Cane
Madonna revealed she's been carrying a secret weapon in her walking stick.
---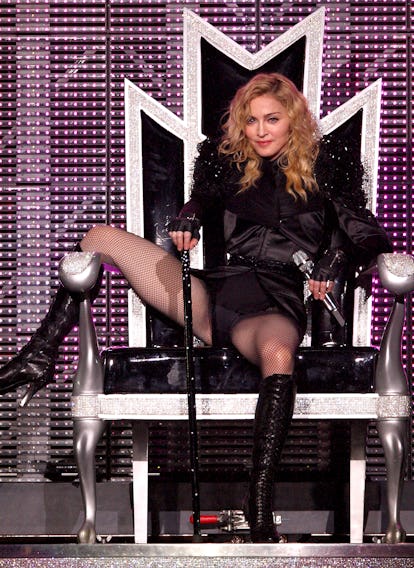 Just when you thought Madonna couldn't possibly have any more tricks up her sleeve, she unsheathes another one.
Not only has it been discovered that the musician (currently going by the moniker Madame X, while on a global tour for her album of the same name) is somehow the ultimate soccer mom for her son David Banda, she's also a secret art world influencer.
And now comes the revelation that she a carries a sword hidden in her walking stick.
After sharing the news that the London leg of her world tour has been canceled on doctor's orders due to a performance injury, Madonna revealed to her friends in Lisbon that the walking stick she's been carrying can be unscrewed to reveal a 16-inch saber. "We want the finest wine money can buy. Hey, watch out," she says in an Instagram video of the big reveal. "If you don't give me good wine, this is what's going to happen."
"Give me red wine or give me cash," she says to the bartender, before placing the sword back inside its hiding place.
Though she may have revealed her sword in jest, Madonna could actually find herself in a bit of a legal bind for carrying a concealed weapon through the United Kingdom, where there is a four year prison penalty as well as an unlimited fine for carrying a knife.
However, Madonna revealed her secret in Lisbon, not London, so there's probably not much U.K. authorities can do. She'll just have to get another cane (and judging by red carpet photos, she has a few) when she heads back to England for her rescheduled tour dates.
Honestly, if this says anything about Madonna—besides just how metal must she actually be—it's that Jack Sparrow has nothing on Madame X when she's trying to get a sip of good red wine.
Related: Madonna's Been Rocking the Red Carpet for Thirty Years