Madonna Tests Positive for Antibodies, Announces Plans to "Breathe in the COVID-19 Air"
She tested positive for coronavirus antibodies, though that does not confer immunity.
---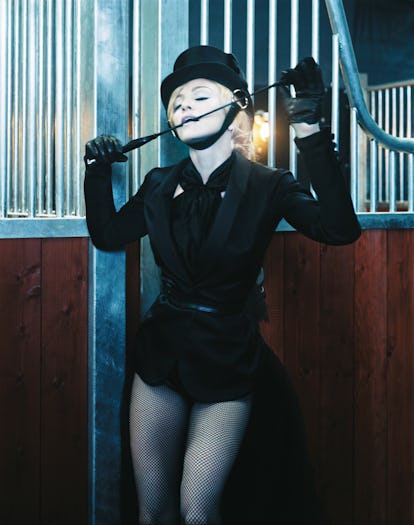 Steven Klein
Madonna is chief among the list of celebrities with the most interesting takes on the coronavirus, which she infamously christened "the great equalizer" while taking a bath in March. On Thursday, she Instagrammed another video addressing the coronavirus while engaged in an unusual activity. This time, she also shared some personal news.
The high-production video, titled "14th Quarantine Diary," alternates between black-and-white footage of Madonna silently typing away on a typewriter, and color footage of her reading aloud what she typed. "Took a test the other day, and I found out I have the antibodies," she says. "So tomorrow, I'm just going for a long drive in a car, and I'm going to roll down the window and I'm gonna breathe in. I'm gonna breathe in the COVID-19 air. I hope the sun is shining."
It appears that Madonna has already gone for that long drive, as there's also footage taken from the window of a car. While she seems to assume that she is now immune to the coronavirus, it's important to note that research has found many of the antibody tests currently available provide inaccurate results. What's more, because COVID-19 is a new virus, the presence of antibodies does not confer immunity.
Madonna goes on to assure that while she hasn't wanted to write lately, she's still been thinking about what she wants to write. "Why waste words? People are not ready to hear what you have to say, and then you've thrown away an opportunity. People don't understand the importance of words, the power of words—that words are actions and you can't take them back." She then poses the question "How can light make you blind?," and blows out a "naughty" candle, telling it to go to bed.
Before getting into COVID-19 specifically, Madonna ruminates on her life in quarantine. "I am so consumed in my own confusion, so bewildered in my incapacity to express my disappointment, so unwilling to fight with people I have been in quarantine with, because I know the futility of it. And yet, I want to taste the satisfaction of being known, of being understood," she says. "It amazes me that we care so much about what people think or winning people's favor or being right in an argument. I hate myself for this pettiness … I want so badly to be released from the bondage of giving a fuck."
In between keeping her followers up to date with her Quarantine Diaries series, Madonna has also been calling attention to the dire situation the pandemic poses for prisoners. Earlier this month, her Ray of Light Foundation partnered with the Reform Alliance to secure and distribute 100,000 masks to prisons and jails in Illinois, New York, California, and Massachusetts.
Related: Pedro Almodóvar Reveals What Really Happened at Madonna's Truth or Dare Party in Madrid