The 9 Things Madonna Invented That You Didn't Realize Madonna Invented
The world would look very different without Madonna in it.
---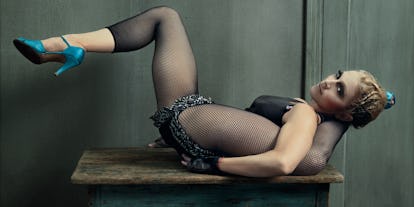 Steven Klein
In her 60 years on this planet—yes, it really has been that long, on Thursday—Madonna has left her mark on every facet of culture, from, most obviously, music to film, fashion, and beauty. It's hard to imagine a world without Madonna, because it would likely look so different. While her trendsetting is mostly confined to conversations about her music and style—what other celebrities could you recognize purely by the silhouette of a bra, or by inconspicuous rubber bracelets—Madonna has also shaped culture at large, probably in ways you didn't recognize as bearing her mark. In celebration of her 60th birthday, take a look below the many cultural trends we have her to thank for. As she once famously said, "People think they will wake up one day and I'll be gone. But I'm never going away."
The Pop x Art Crossover
Well before pop stars were referred to as artists, and before Jay-Z was aping Marina Abramovic, Madonna bridged the worlds of pop music and fine art. As a New Yorker in the 80's, Madonna was a fixture in art circles, palling around with the likes of Andy Warhol, Keith Haring, and of course Jean-Michel Basquiat, who she dated from 1982 to '84. "I remember getting up in the middle of the night and he wouldn't be in bed lying next to me; he'd be standing, painting, at four in the morning, this close to the canvas, in a trance," she said of their relationship. "I was blown away by that, that he worked when he felt moved." Plus, she often borrowed from artists in her own work, like the images of Marilyn Minter and Guy Bourdin that turned up in her music videos and stage sets. It's impossible to think that an album like Lady Gaga's Art Pop would exist without Madonna.
The Pop x Fashion Crossover
Before pop stars like Rihanna were fixtures at fashion shows, on the runway, and on fashion magazines, Madonna forged that frontier. While David Bowie famously collaborated with Kansai Yamamoto, Madonna was the first to make collaborations between pop artists and designers routine. That started with her iconic cone bra collaboration with Jean Paul Gaultier. Shortly after, Madonna was handpicked by Anna Wintour for the Vogue editor-in-chief's first cover with a celebrity, which Wintour later described when defending the Kanye West and Kim Kardashian cover as something that "was considered completely controversial at the time, too." "It's such a long time ago probably no one remembers, but she was a very controversial figure," Wintour said. "Now she's part of the establishment." Years later, in 1995, Madonna made appearing in fashion campaigns the norm when she starred in a campaign for Versace that the brand later recreated with Lady Gaga.
Auteur Pop
If there never was Madonna, there might not be artists like Charli XCX and, in a more mainstream capacity, Taylor Swift. Well before pop artists were taken seriously enough for adults to confidently call themselves fans, Madonna was creating a new era in the genre. She normalized the idea that pop stars could and should write their own songs. She alone introduced the idea of authenticity in pop music. And, she pushed back in an industry where pop stars were once simply cogs in a machine.
Celeb Skincare Lines
Madonna might not have been the first celebrity to release a skincare line (see: Jessica Alba's Honest Beauty and Miranda Kerr's Kora Organics), but she raised the bar for quality with MDNA. As her longtime dermatologist Dr. Paul Jarrod Frank, who collaborated on the creation of the line, explained, "The products represent the most thorough, meticulous, advanced and different skincare experience—luxurious formulations that leave your skin feeling and smelling great, and cutting edge technologies to help deliver the ingredients." Madonna later shared her feelings about it, telling Jimmy Fallon, "I didn't come here as a pop icon goddess. I came here as an aesthetician to rewrite the declaration of skindependence. Can I have a drum roll? Thank you. We do not discriminate with the skincare line. It's for everyone. Old people. I'm going to bring humanity together with the MDNA skincare line."
Instagram
Sure, Madonna didn't invent Instagram—but she did put in motion the guiding principle behind it: That we are all curators of our own lives. With her 1992 Sex book, Madonna presented the idea of not only self-branding, but of presenting a unified aesthetic through photos as your personal brand. Hers was shot by Steven Meisel and Fabien Baron and featured celebrities like Naomi Campbell and Isabella Rossellini. It's no surprise that Madonna excels at Instagram today.
Proto-Reality TV
One year before MTV changed the course of TV history with the premiere of Real World, Madonna released her own version of reality TV: Madonna: Truth or Dare. The documentary was an instant hit, becoming the highest-grossing documentary until 2002's Bowling for Columbine. It also shows Madonna at her most emotionally vulnerable with confessional-style interviews. Aside from laying the groundwork for reality TV, the project also made tour films a norm.
Proto-Viral Moments
Thanks to her Truth or Dare documentary, Madonna helped to create the idea of monocultural—now known as viral—moments. After the film came out, she referenced it in a proto-viral cameo in Wayne's World that was soundtracked by her 1990 hit "Justify My Love"—the controversial video for which was also a proto-viral moment. If that doesn't convince you that Madonna set the tone for the modern internet, just look to her 1995 infamous sit-down with Courtney Love at the Video Music Awards, or at the same awards show in 2003, the kiss (with Britney Spears and Christina Aguilera) seen around the world.
Self-Care
One of the reasons Madonna has aged so gracefully is that she's been such a proponent of health consciousness. She was an early adopter of yoga, specifically Ashtanga yoga, and an early adopter of macrobiotic, vegetarian diet. She was also largely responsible for the Kabbalah trend in the late 90's, which really took ahold in the early aughts. Remember how those red bracelets were once fashion statements?
Age Inclusivity in Pop
Before Madonna, pop artists had a shelf life. Madonna has raised the age cut-off with every new decade she approaches, though. It's in part thanks to her that 40s are the new 30s, 50s are the new 40s, 60s are the new 50s, and so on. As she eloquently put it when she turned 57, in a caption on Instagram: "Shut up jealous b—-es! I hope you are as fun loving and adventurous as me when you're my age!!!! Hahahhahaha let's see."