Magnea: Designers to Watch
The Icelandic duo talks about their first collection together.
---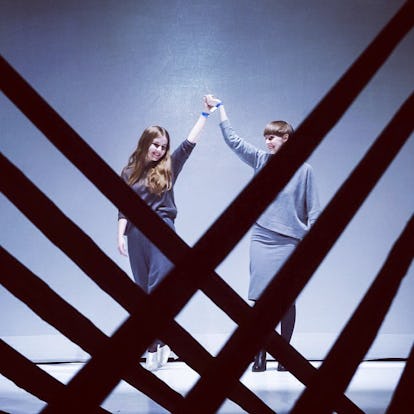 Magnea Einarsdóttir and Sigrún Halla Unnarsdóttir's partnership began with a bad job interview. Unnarsdóttir was working for an Icelandic outerwear company that was hiring a knitwear designer. Einarsdóttir came to interview for the position, and Unnarsdóttir—less than excited about her job— immediately recognized Einarsdóttir as a kindred spirit, one who, like her, would not be thrilled by designing utilitarian outerwear for the masses. "I was sending her signals during the interview that this was not the job she should be applying for," says Unnarsdóttir with a laugh. The two had a lot in common—both had studied fashion design abroad (Einarsdóttir at Central Saint Martins in London, and Unnarsdóttir at Kolding School of Design in Copenhagen) and returned to Reykjavik after graduating. They quickly found themselves running in the same circles and, before long, were working together.
"In Iceland, there aren't many fashion jobs," says Einarsdóttir, "so many designers have to start their own labels." And that's exactly what she did, launching Magnea in 2012. In 2014, she recruited Unnarsdótti to style the collection's first presentation at the Reykjavik Fashion Festival, and now Einarsdóttir and Unnarsdóttir are equal design partners in the brand. The Fall 2015 collection is a chic, modern grouping of monochromatic knitwear staples made by applying denim-weaving techniques to thick, locally sourced wool. "We wanted to challenge ourselves and source materials that aren't usually used in luxury fashion," says Einarsdóttir. And that's not the only way they're challenging themselves: this season, the duo launched a delicate jewelry line with local Icelandic designer Aurum, and began working on a collection for Club Monaco that will be sold internationally next fall. "We like collaborations," Einarsdóttir says. And they especially like working together. "We can't really say who did what; we don't think like that at all," says Einarsdóttir. "We agree most of the time, but when we don't we compromise and come up with something…" "Even better," says Unnarsdóttir.
The Best of the Reykjavik Fashion Festival
JÖR by Guðmundur Jörundsson The young fashion designer Guðmundur Jörundsson brings his mastery of men's wear tailoring into his '90s goth-inspired, almost unisex women's wear collection.
Photo by Birta Rán Björgvinsdóttir/RFF.
Another Creation The brand's creative director Ýr Þrastardóttir made sure that every piece in Another Creation's debut collection can be worn in multiple ways—coats become vests, pants transform into skirts.
Photo by Birta Rán Björgvinsdóttir/RFF.
Magnea Design team Magnea Einarsdóttir and Sigrún Halla Unnarsdóttir transformed traditional Icelandic wool into luxurious knit separates—as in the case of this oversized blue sweater—and paired them with structural denim layers.
Read more about the Magnea here.
Photo by Birta Rán Björgvinsdóttir/RFF.