Makenzie Leigh Busts Out
The actress on her star turn—and very memorable sex scene—in the new drama James White.
---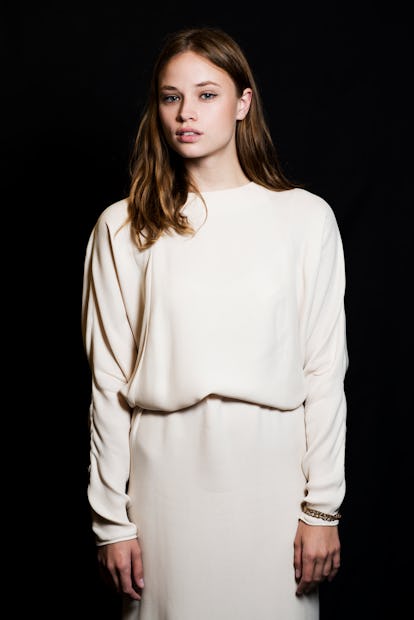 It could be that the newcomer Makenzie Leigh's performance in the indie drama James White appears so effortless because she's a natural, but it might also be because she had the benefit of drawing from personal experience. In the film, the 25-year old actress plays Jayne, who meets the title character (played by Christopher Abbott) on a family vacation—exactly how Leigh encountered her first boyfriend when she was 12. And like Jayne, she wasn't ready to be in a relationship, either.
"We were together about a day," Leigh says of her youthful affair. "I told him if he called me a slut I would leave him. I'm not even sure I knew what that meant, but then he did—and I was like, 'That's it! We're done!'" She says, laughing. "What a young feminist I was."
James White, out November 13,tells the story of a young man (Abbott) caring for his cancer-stricker mother Gail, played by Cynthia Nixon. It is a semi-autobiographical take on the experience of first-time director Josh Mond, who is one-third of the indie production company Borderline Films, responsible for festival darlings like Martha Marcy May Marlene and Simon Killer.
Leigh knew she was in good hands. "I would've trusted anything they said," she says.
Leigh didn't always have acting aspirations. The Texas native moved to New York straight out of high school with dreams of becoming a ballerina. Then she wanted to be a writer, which led to a fiction class at New York University, which led to an acting class she signed up for to learn more about character development. It was a fortuitous turn of events: In addition to James White, Leigh has scored a role in Ang Lee's forthcoming Billy Lynn's Long Halftime Walk.
But at the moment, she will likely be more talked about for an especially indelible sex scene in James White.
"We knew it was going to be in the shower, but there was a big discussion on set—like, 'What is it really going to be?'" she recalls. "Finally, one of the guys came up to me and was like, 'So it's a reach-around hand job.'" And while Abbott is the one who climaxes onscreen, Leigh wielded all the power—literally. "I told Chris, 'You better be nice to me today,'" Leigh says. She made the universal gesture for masturbation—once, and then a noticeably lengthier stroke. "Because I can make your d–k look bigger or smaller."