Meet Mala Gaonkar and Sema Sgaier, the Women Troubleshooting the World's Crises
The founders of the Surgo Foundation are innovative problem solvers in the places where they're most needed.
---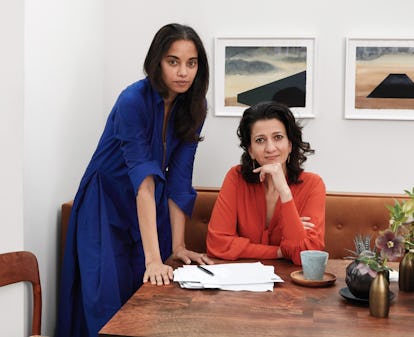 Photograph by Martien Mulder, Styled by Sarah Zendejas; air by Takuya Sugawara for Kiehl's; Makeup by Gina Daddona for Chanel; photography assistant: Frank Mueller.
The universe of wealthy philanthropists can seem enviably glossy, with its black-tie balls and blue-chip fundraising auctions. But Mala Gaonkar—the London-based, Harvard-educated cofounder of the Surgo Foundation—had a decidedly unglamorous entree into that glittering world: toilets.
About five years ago, Gaonkar, an investment manager who was born in the United States but raised mostly in Bangalore, teamed up with a friend to work on solving the sanitation crisis in India, where a lack of bathrooms has led to a host of health crises. "It seemed like a really simple problem," says Gaonkar, the doe-eyed mother of two teenagers, who comes across as simultaneously steely and soft-spoken. "I said, 'Let's build toilets!' Sounds great, right?"
It did, until the donors returned to find that most of the thousands of supposedly lifesaving outhouses had been transformed into storage sheds and chicken coops—useful, but not in preventing a cholera outbreak.
The experience was frustrating, but Gaonkar came away from it with a valuable insight. "It made me realize that if you don't actually listen to people and find out what they really care about, you're not helping anyone," she says. And so, two years ago—along with her husband, Oliver Haarmann; the Bill & Melinda Gates Foundation veteran Sema Sgaier; and the writer Malcolm Gladwell, an old friend of Gaonkar's known for his outside-the-box perspective on social issues—she set up the Surgo Foundation to close that communication gap.
As part of a tuberculosis-prevention project in Chennai, for example, the Surgo Foundation is attempting to figure out why, despite a massive public-education campaign and the existence of well-staffed free clinics, patients often wait months after developing symptoms before going in for treatment, putting not only themselves but their families at risk. "There has long been this false assumption that health care is something that everyone wants," says Sgaier, a Libyan-born neuroscientist–turned–public health worker who serves as the foundation's executive director. "But what we're understanding now is that it's like selling any other product. You have to convince people to seek it out."
If anyone can do that, it's Sgaier, whose work at the Gates Foundation included getting adult men to undergo circumcision as part of an effort to decrease HIV transmission in sub-Saharan Africa—a tough sell if there ever was one. Addressing HIV in Africa is also on Surgo's priorities list, and, going forward, the organization hopes to bring its multifaceted problem-solving approach to issues like housing in the U.S., where the foundation is based. "The tools we use to get these insights about health care are generalizable to a lot of different areas," points out Gaonkar.
Cross-disciplinary thinking does seem to be her particular strength. Though she comes from what she describes as "a long line of rural Indian doctors," she chose to study economics, rather than science, at Harvard. ("I was the family black sheep," she jokes.) She's a trustee of the Paris Review Foundation, as well as of the Tate. And she recently teamed up with the musician David Byrne and Pace Gallery in Menlo Park, California, to create an interactive neuroscience exhibit that they hope to bring to London and New York.
"I think it's important to have things that you explore and indulge intellectually that are separate from your work," Gaonkar says. "Everybody needs a back garden."
See 62 fashion insiders speak out on International Women's Day: