Let It Rock
Celebrating the fashionable life of the late punk pioneer Malcolm McLaren.
---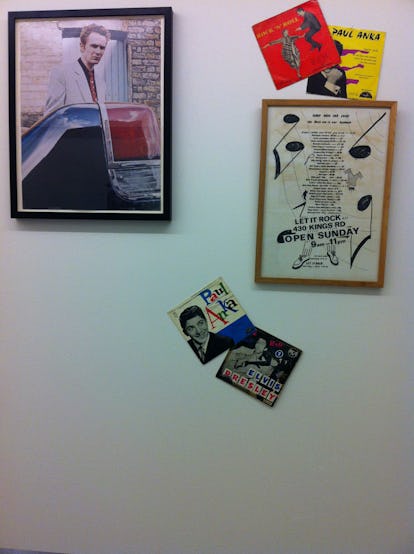 Copenhagen Fashion Week isn't the only stylish event in the state of Denmark this summer. At the same time, the Copenhagen International Fashion Fair is honoring punk pioneer Malcom McLaren with a retrospective of his influential career as part of The Crystal Hall, an annual Danish exhibition celebrating the lives and careers of artists, designers, and cultural transgressors. Curated by Young Kim, McLaren's partner until his death in 2010, and the writer Paul Gorman, LET IT ROCK: The Look Of Music The Sound Of Fashion highlights all facets of the multi-hyphenate's work, from the offerings at his famed London pop-up shops to the music that played in them. Here, Kim discusses the show and McLaren's lasting influence.
Malcolm McLaren was an influencer in so many areas. How have you incorporated his many different facets and talents into the exhibit? Malcolm was a 21st century artist practicing in the 20th century—ahead of his time and therefore often misunderstood. He was an artist who worked in commercial mediums: fashion, music, film… and sometimes in art with a capital "A", particularly at the end of his life. As this is a fashion fair, I decided that the show should focus on Malcolm's shops and fashion design.
What has been McLaren's biggest influence on the fashion world? Malcolm's influence and the changes he wrought are so great that most of us are not even aware that someone had to forge them. For example, he is the originator of deconstruction. No one who grew up after the '70s can imagine that it was a radical thing to have exposed zippers and seams, deliberate holes and weathering, ragged and unfinished edges in clothes… He also took writing on clothes to another level. Before him, most text referred to an official membership—to a school, a club, a team, etc. But he was aware of the annexation of text in fine art circles since the '20s, so he applied it to fashion. He also believed that music had a look and that music and fashion go together. This is a technique that all fashion houses today try to do somehow—to connect to rock 'n' roll. Only relatively recently one of his fashion ideas has finally been taken up by the commercial fashion world: the pop-up shop. All his shops, except for Worlds End, lasted less than two years. Every fashion company from H&M to high fashion houses like Chanel, Vuitton and Valentino use these techniques. We take them for granted.
Can you tell us about the music you have selected for the exhibit? ____ I have left the music to my co-curator, Paul Gorman, but it was culled mainly from the music that is known to have been in Malcolm's jukebox in Let It Rock, the first shop, and tracks he personally loved. We started with a compilation that Marco Pirroni, an early habitué and fan of the shop, put together.
What are some of your favorite pieces in the show? ____There are so many great pieces—many of them very rare. My favorites are very personal and connect directly to Malcolm. For instance, I love the pirate squiggle print boots that Marco Pirroni kindly lent us. They are so beautiful and so easy to wear, and the print is fantastic. Malcolm sourced the print from a book, like many of his ideas throughout his life. He always started with research. We have a fantastic dress with the Apache print that Annabella of Bow Wow Wow wore along with Malcolm's original book Indian Rawhide that he sourced the print from. I also have great affection for his original bondage trousers—made of the heavy cotton sateen he first saw on the waistcoats worn by British Rail porters. I read that Russ Meyer, when he was on a plane with Malcolm, working on the Sex Pistols movie, refused to sit near him because he was terrified that if there was any turbulence, he'd get tangled up in the straps on Malcolm's bondage trousers! The other precious thing is a set of pages from an old notebook of Malcolm's from 1976 where you see his notes on possible names for the Sex Pistols, his idea for the Seditionaries label, and the "I Groaned With Pain…" t-shirt which we will have in the show. But my absolute favorite is probably the knit outfit from the Witches collection—a sweater and tube skirt with a Keith Haring jacquard. When I picked it up from Kim Jones, I couldn't resist trying it on! There is a famous picture by Steven Meisel of Malcolm and Vivienne Westwood with Talisa Soto dressed in a version of this outfit jumping and it's so obvious why. When you put it on, you feel like jumping up and down. There is so much joy and humor and mischief—which is what Malcolm was about.
What do you hope visitors take away from this exhibition? A lot of people don't understand what Malcolm actually did. Some people think he was just a shop manager on the King's Road! This is completely wrong. I would like people to understand and learn that he was a true creator. Because he collaborated with others—like many contemporary artists today—to realize his ideas, people think he was not significant in the creative process, yet probably none of his collaborators ever made work that was better than what they did with Malcolm, including Vivienne Westwood. If you examine all the work he did throughout his career, there is an incredible consistency—politics, provocation, humor, a strong aural and visual connection, an obsession with pop culture, use of the collage technique and always, a remarkably unique point of view.
Let It Rock: The Look of Music. The Sound of Fashion is on view through August 6th at CIFF at the Bella Center, Center Boulevard 5, DK – 2300 Copenhagen S.
Young Kim wearing a Keith Haring knit outfit from the Witches collection. Photo by Jean Francois Carly ©Malcolm McLaren Estate
Installation view. Photo by Jean Francois Carly ©Malcolm McLaren Estate
Pirate boots owned by Marco Pirroni. Photo by Jean Francois Carly ©Malcolm McLaren Estate
Dress worn by Annabella of Bow Wow Wow. Photo by Jean Francois Carly ©Malcolm McLaren Estate
Malcolm McLaren in front of the first pop-up shop, Let It Rock. Photo by Jean Francois Carly ©Malcolm McLaren Estate
"I Groaned With Pain…" T-Shirt. Photo by Jean Francois Carly ©Malcolm McLaren Estate
Flyers and photos on display. Photo by Jean Francois Carly ©Malcolm McLaren Estate