The Hand That Rocks
Ads pushing portable technology are turning male hand models—once the industry's also-rans—into hands-down superstars. Tony Dokoupil gets a grip.
---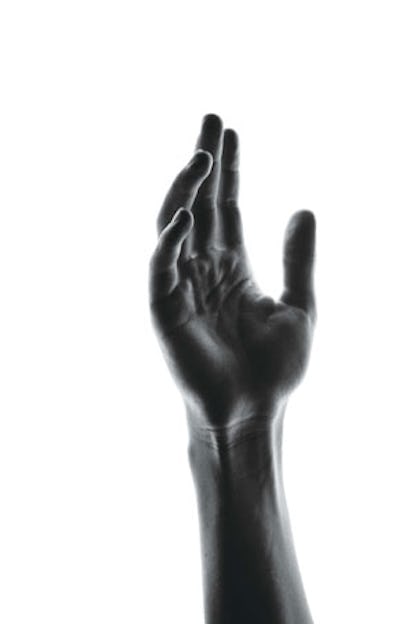 Ashton Kutcher has a lot going for him. Looks. Six million Twitter followers. Demi Moore. But in late 2008, after he became the pitchman for Nikon's digital cameras, his new partners discovered a last-minute glitch: unattractive hands. Not only were they "really bulky," according to a person familiar with the shoot, but the nails were "flat-headed," the beds "shallow," and the knuckles "plump." Wide shots were fine, but the company wanted to emphasize the Coolpix S60's new touch screen and special features, like the ability to finger-swipe through photos and scrawl messages, Perez Hilton–style, on the tiny liquid crystal display. So out went the casting call—for "Ashton Kutcher–like hands."
Adam Lundberg answered. A lanky Japanese-American 24-year-old, Lundberg had moved to New York to pursue traditional modeling in 2007 and found some success. He signed with the Wilhelmina agency, opened for designer Paul Smith during Paris Fashion Week, and graced billboards for Benetton and Missoni. But life as a male model, even a relatively successful one, is always precarious. So when a girlfriend suggested he rent out his hands—"the most beautiful I have ever seen," she gushed—he signed a deal with Parts Models, one of the leading all-appendages agencies. Nikon was his first big tryout. When he whipped out his hairless, poreless, veinless honey-brown hands, the director closed her appointment book. "You're it," she said, and the next day Lundberg made $2,800 for 40 minutes spent manipulating the device.
While companies will always want the fair of face to lend their products an appealing aura, the explosion in mobile devices means that male digits are more in demand than ever. Male hands make products seem smaller, lighter, and more portable, and they connect with the intended audience of mostly male technophiles.
"The heyday is now," says Danielle Korwin, the founder of Parts Models and self-described "Frank Perdue of modeling" because she's "all parts." Korwin has ridden the new wave of male mitts to more billings and a larger talent pool, and she casually refers to her most successful models as "one-namers." "Tom"—as in Tom Nikko—for example, has shot for Apple, Canon, HP, Samsung, Sony, and Verizon. "All my life I've just been blessed," he says. "It's that simple."
Now Lundberg is hoping to join their ranks. Since leaving Wilhelmina, where, he says, his agent uncharitably dismissed hand modeling as "B-work," he has booked gigs for Dell, Samsung, and Sony. In contrast to the real-life hands of a tech obsessive (imagine pale, fishy things with a patina of Cheetos dust), those of a professional model are long, straight, and immaculate, without wrinkles, creases, or calluses. Because they're perfect, you aren't supposed to notice them at all, allowing the product to shine. "It's the oddest kind of modeling," says Lundberg—"you're trying not to grab attention."
The last golden age of the handsome-handed was the Eighties and early Nineties, when booze and tobacco companies fought for dollars amid a tightening skein of ad regulations. Even then, however, female hands reigned supreme, since the four biggest job categories have traditionally been "mommy hands" (which spread peanut butter and pour cough syrup), "product hands" (for wiping dishes and mopping floors), "glamour hands" (wearing diamonds and caressing credit cards), and "beauty hands" (to wash faces and hold makeup). Men usually just poured beers, a task that for the most part was divided neatly between models Laurence White (domestic brands) and Jon Carthay (imported brews). As White told The New York Times in 1991, "somehow the squareness of Jon's thumb makes people think of a guy on a train coming in from Connecticut."
Yet for all the additional income, the tech sector hasn't helped the stature of the male hand model. There are the unenviable, and perhaps inevitable, innuendos (think of the association of "hand" and "job"). And then there are the embarrassing fictional doppelgängers: George Costanza preserved his hands in oven mitts as a would-be finger jockey on Seinfeld; Zoolander's JP ("I'm a hand model, Mama") Prewitt kept his moneymaker in a glass dome. What's worse, professional handy men sometimes get passed over by other performers, as Nikko did on the set of director Sam Mendes's recent "FaceTime" ads for the iPhone 4. A 10-year veteran, Nikko was booked for three days for the shoot. Each day he arrived at 5 a.m., and each day he, well, sat on his hands. (Mendes thought the actors' hands were good enough.) "It was like an ace pitcher warming up in the bullpen, and then suddenly the game is over and everyone goes home," Nikko told me.
He gets paid either way—often quite well. The phalanges frontman has made as much as $1,500 for a 15-minute shoot, and has banked enough to move from Queens to the Upper West Side. But his annual salary has never topped $100,000, and at 45 his options will soon begin to dwindle.
Female counterparts like Ellen Sirot, on the other hand, show no signs of slowing down. The 47-year-old Sirot wears gloves year-round, lotions up every hour, and says she hasn't cleaned, cooked, or held hands with her husband in decades. She's also ubiquitous as an industry spokesperson and a flamboyant self-promoter. "I'm the 'it' of digits," she has said—the owner of "perfect, neutral-toned hands." On CNBC's The Big Idea With Donny Deutsch, she held up her gloved hands in the pose of just-scrubbed surgeon for the entire interview before sensuously unwrapping them, reducing her host to splutters of delight. (Do yourself a favor and find it on YouTube.) The upshot is that she's now a marketing juggernaut with Hand Perfection, a line of "de-aging" lotions. She even sells Sirot-brand Glovettes, which are like thongs for the hand: leopard-print Spandex that shields the backs of hands from sun damage while leaving the palms and fingers exposed.
Nikko adheres to a manlier regimen, which is to say, not much of a regimen at all. He'll go for months without a manicure and even play basketball with friends if they call. Anything more, he says, is "silly"—not to mention pointless. "Other people can lather up every 10 minutes, and their hands still look like shit." When Nikko was in high school, his musical tastes ran to Led Zeppelin and Van Halen, and he played the drums until his hands bled. Throughout his 20s, he carried boxes and pulled carts for his family's wholesale food business. Then, about two decades ago, when a hand model didn't show for a liquor commercial Nikko was hired to act in, the director picked his hands out of a lineup as replacements. More than 500 jobs later, he says, it's all because "my mom and dad gave me decent genes."
As for Lundberg, he's not big on primping either. And while he says he's "cautious" with the source of his new livelihood, he still works as a bartender at night. This winter he's hoping for 10 to 12 hand-modeling jobs, enough to "set him up for the year"—and to help propel him into the ranks of Nikko and the other one-namers. But if it doesn't work out, he'll happily go home to Hawaii, where he misses surfing and other callus-inducing pastimes. Beautiful hands, he confides, can be kind of a drag.
Photograph by Horacio Salinas