Malia Obama Wears Braids While on Summer Vacation in New York
She's on break from Harvard.
---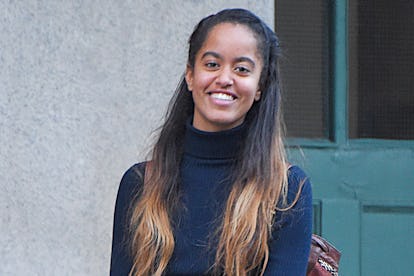 Josiah Kamau/Getty Images
Malia Obama is on summer vacation from Harvard University, and her first stop was apparently to the hair salon. The 19-year-old was spotted out in New York on Monday wearing her hair in long box braids. The former first daughter styled her hair with curled ends and pulled it up into a half-up, half-down bun style. She completed the look with a sports bra, denim jacket, SoulCycle leggings, and a Fiji water, likely having just finished a class at the spin studio.
When not parking her car in Harvard Yard, Obama has been spending most of her free time in New York. During her gap year before college, Malia interned at The Weinstein Company, reportedly pitching scripts to executives in her first week. She also galavanted around the city that never sleeps, attending events like Tom Hanks's talk with Bruce Springsteen at the Tribeca Film Festival, going backstage with the cast of Arthur Miller's The Price with dad Barack Obama when he came to town, and attending a Fashion Week afterparty for buzzy brand Paloma Spain. Most recently, Obama has been seen with Rory Farquharson, her British boyfriend whom she met at school. The two looked every bit the New Yorkers in January, where they hung around the SoHo neighborhood wearing Doc Martens and puffer coats.
It seems like Barack and Michelle's eldest daughter will once again be spending her summer in New York, though there is no official word on any internships. Her parents did just secure a deal with Netflix to produce TV shows and films, so it is possible that Malia, who has worked as a production assistant on Girls as well as other shows, is headed for a role as executive producer before graduation day.
Related: Halle Berry Discusses What It Was Like to Be Malia Obama's Boss
How to Jet Set Like Barack Obama
How to Jet Set Like Barack Obama
For one of his most high-profile, post White House appearances, the former president went kitesurfing in the Caribbean with Sir Richard Branson. Sure beats watching a James Comey hearing.

Photo by Jack Brockway/Getty Images
Obama is reportedly staying at Marlon Brando's private resort at the Tetiaroa atoll in French Polynesia. Brando fell in love with Tahiti while filming his 1962 movie Mutiny on the Bounty and then bought the resort. The 35-villa resort is known for its celebrity clientele, breathtaking white sand beaches, and its commitment to sustainability. Not a bad spot to work on those memoirs.

Photo: @thebrando
Villas at The Brando resort, where Obama is reportedly staying, start at around $2,000 a night. Each villa has its own private beach area and plunge pool, making it perfect for couples, like the former president and the stylish former First Lady Michelle Obama.

Photo: @thebrando
Right after President Trump's inauguration (and a quick trip to Palm Springs), the Obamas flew off to Sir Richard Branson's private Caribbean retreat, Necker Island. They went kitesurfing and yachting with Branson, and enjoyed some well-deserved vacation time here. Typically, you need to book out the whole island (up to 34 people for $80,000 per night) to stay here, but, you know, he's the former leader of the free world. Check the website to find one of the individual rooms that occasionally become available.

Photo: @virginlimitededition
Between the water sports (sailing, paddleboarding, stand up paddle polo), spa treatments, and daytime excursions, Necker Island is a lifetime removed from Washington D.C.

Photo by Jack Brockway/Getty Images
Doesn't Obama look happy? Doesn't he look ecstatic to no longer have to hear the phrases filibustering or congressional hearing on a regular basis? What's that noise? Sorry, it's hard to hear all the way up here as you're kitesurfing above the Caribbean, which just happens to be one of the must-do activities on Necker Island.

Photo by Jack Brockway/Getty Images
Obama played a round of golf at Mid-Pacific Country Club in Kailua, Hawaii recently. Though his trip was brief, he was spotted dining at Noi Thai Cuisine with his sister and one of his other go-to favorite spots, Buzz's Steakhouse in Kailua. He has a vacation home in Kailua, which is just over the Ko'olau Mountains toward the Windward side of Oahu. He typically likes to dine at local restaurants and play golf while he's on island, and that's exactly what he did this time around. This side trip to his home state was a stopover on his way to French Polynesia.

Photo by Jack Brockway/Getty Images
Obama knows Hawaii well, having been born in Honolulu, and throughout his presidency the 50th state offered a comfortable refuge far removed from the Washington scrum. Here, Obama enjoys a traditional "shave ice" from the popular Island Snow at Kailua Beach Center in Kailua, Hawaii.

Photo by Jewel Samad/Getty Images
In January, the Obamas retreated to the Palm Springs home of Michael S. Smith, who redecorated the White House when the Obamas lived there, and James Costos, ambassador to Spain and Angora during Obama's presidency. The 11,000-square-foot home, designed by architect Howard Lapham, overlooks Sunnylands, which was once owned by Walter and Leonore Annenberg and played host to many past presidents. The kept a relatively low profile during their trip to Palm Springs, but we're guessing Obama played a few rounds of golf while he was there (hopefully with his hat backwards). You can't rent out this specific Thunderbird Heights home, but you can find other sprawling estates for rent nearby on Airbnb.

Photo: @michaelsmithinc
According to the latest reports, Barack and Michelle Obama, along with close personal friends like Bruce Springsteen, Oprah, and Tom Hanks, are all hanging out together and sailing around French Polynesia on the yacht of billionaire entrepreneur Larry Ellison.

AGF/Getty Images
In early April, they all met up and ventured to Vanilla Island for lunch, making their way to Taha'a (pictured here) later in the day.

DEA / C.DANI / I.JESKE/Getty Images
And if they stick to their current trajectory, they'll make landfall in Bora Bora before returning to The Brando, where the former president will likely resume work on his memoirs while staying as far away from the White House as possible.

DEA / W. BUSS/Getty Images