The Montauk-ing of Malibu: Another Celebrity Seaside Escape Faces Its Instagram Fate
Malibu was the original Montauk before the influencers arrived. Now there's a Soho House.
---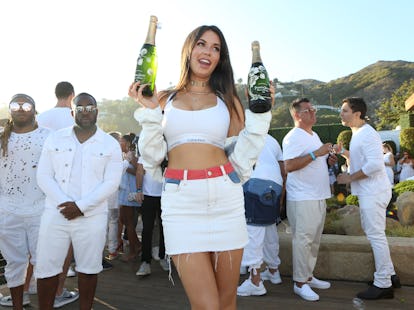 Photo by Tasia Wells/Getty Images
There aren't many ways to get to Malibu. Zip down the 10 freeway and onto Pacific Coast Highway, take Kanan Road at the northernmost reaches of the Valley, wind through Topanga Canyon, or, preferably, go through Calabasas and into Malibu Canyon. There, the straggly road cuts through hillsides toasted to the color of a perfect tan—it's great advertising—and cars swerve close to the cliff side. In a town of no towers, mountains matter; and Malibu's remoteness only serves to reinforce its exclusiveness. Once out of the canyon, there's a clique of palm trees that looks as art-directed as anything in Los Angeles, but locals will say that this scenery has gone unchanged for 20, 40, 60 years. And archival photographs will confirm that the original rancho of Malibu looks like the present day, just through a filter.
In some ways, Malibu is closer to its original identity now more than ever. Recently, international brands selling the good life like Soho House and Nobu have descended on the seaside city; others, like Malibu Farm (now in Miami and Hawaii) and One Gun Ranch (of cookbook fame) grew locally. Living well, really, is only the baseline for an enclave with a stretch dubbed "Billionaire's Beach." Much of this new revitalization has been spearheaded by longtime residents of prominence, calling to mind beginnings of the Malibu Movie Colony in the late 1920s, when an influx of celebrities built the city in their image.
Like its East Coast counterpart Montauk, the sleepy surf town of Malibu was never intended to be a seaside party spot. It began as a hideaway for stars, not scions—the lure more fantasy than dynasty. The city is notoriously hard on development. Celebrities went there to be anonymous, which only caused the paparazzi to follow. Of course, there was also the scene in the Nobu parking lot on a recent night, as a number of club-ready women exited an SUV ride-share to a cascade of camera flashes. One woman asked them to do it again for her Instagram story.
It's a question on many people's minds in Malibu today: Is the prototype for the original Montauk—an unspoiled, prime surf spot—now fashioning itself more like the new Montauk, a Saturday-night scene crammed with influencers? Yes and no. Certainly, Malibu is getting younger than it was, from Miley Cyrus's earthy Malibu makeover to Alex Israel's new film foray, SPF-18. Just swap out old-guard Clara Bow for resident Kristen Stewart, Joan Crawford's scenes in Mildred Pierce for Drake's verses about high-end sushi, studio-system era publicity film stills for Beyoncé's baby pictures.
It was movie stars who first put the city on the map, literally. Twenty-four miles of Malibu—so basically all of it—used to belong to a single family, the Rindges, as chronicled in David K. Randall's The King and Queen of Malibu, published last year. In the 1800s, the Spanish crown gave away tracts of land to military and nobility, and one of the last to survive intact was the Rancho Topanga Malibu Sequit, later purchased by the Rindges in 1892. But after the death of the family patriarch, the Rindges began to lease out the land to ease money problems. Anna Q. Nilsson, the Swedish silent film actress, was the first movie star to rent a lot in 1927. The rest followed: Actors colonized the beach next to the pier, bringing in set designers to build flimsy beach cottages. The 2011 book Images of America: Malibu offers a look at the building of the town during this era, from a bathing Joan Crawford and Douglas Fairbanks, Jr. to Clara Bow's quaint home. Part of the appeal of Malibu still is that, as a city, it has always belonged to movie stars, or those want to be perceived that way.
For years, Malibu did not have a single true nightclub. Now there is Soho House's Little Beach House Malibu, which shares a parking lot with Nobu, and is the only property that forces Soho House members to reapply. Just next door is the 16-room Nobu Ryokan hotel, which opened this year as the flagship of Nobu's new hotel brand. There are about as many hotels in Malibu as there are supermarkets—not many. (I asked a lifelong local where to buy underwear—that is, something that's not designer or bespoke lingerie—and she shrugged. "Nowhere." And good luck if you forget your MacBook charger.) Only as of this year has Malibu had one of the Leading Hotels of the World, the newly reopened Malibu Beach Inn. From the 1940s on, the Malibu Inn, then located across the pier from where it is now, was the heart of the Movie Colony, where you could go around to pick up food, toiletries, and gossip. Several iterations and a move later, it was bought by David Geffen for $29 million. Around the same time, Larry Ellison bought the Casa Malibu Inn, another slice of local history opened in 1950 (now it's the Ryokan). A few years ago, Geffen sold his hotel to the Mani Brothers for a cool $80 million, making it the most expensive hotel property in California, its 47 rooms costing essentially $1.7 million apiece.
Walking inside the lobby of the Malibu Beach Inn, you'd never guess the price tag—which makes it all the more Malibu. The hotel's bar and restaurant, the Carbon Beach Club, has just shown its new face after a lift by local design legend Waldo Fernandez. It adheres to the Malibu dress code of expensive nonchalance: deep-blue nautical motifs, blonde wood, cozy blankets at each booth. I looked over a drink menu featuring cocktails like "Travel Goals" and "Pray for Surf" as a family in shorts and t-shirts had a late lunch, their monogrammed Goyard bags at their feet. A manbunned bartender materialized with a goblet of gin-and-tonic as I watched yachts congregate around Malibu Pier, another historic location that has been chicly updated.
The Rindge family originally built Malibu Pier in 1905 to support the activities of the ranch. They started their own private railway in an effort to prevent encroachment on their land, and it eventually came down once the property was broken up and leased. (Malibu is one of the few California coastlines without a railroad.) One can amble down the pier now to Ranch at the Pier, the physical monument to the buzz of the One Gun Ranch, Malibu book of biodynamic recipes published this year by Alice Bamford, owner of the farm and foodie haven. Moon Juice Brain Dust is for sale here, of course, as well as $85 Bamford bath oils and a $1,300 surfboard the red of Chanel lipstick. It's not so much a shop for beachgoers as it is one for those who already own a beach house.
Also on the pier: Malibu Farm, where throughout a given afternoon there is a long line for one of the tables occupied by designer purses and cauliflower "pizzas." (Neil Young and Daryl Hannah have been seen dining there on occasion.) Below it, the famed Surfrider Beach of 1960s movie fame still draws hundreds of casual tourists and die-hard surfers every day.
Bill Armstrong, 102, is surely one of Malibu's earliest living residents. He still lives in the beach house he bought in 1950 for $13,000, two doors down from the house on Latigo Shore Drive that was originally owned by the Rindges, and which appeared in the original Mildred Pierce. Sitting by the window with a view of at least a dozen surfers, he recalled a time when "every girl had a horse" in Malibu. His wife started a local private school in the 60's attended by the children of Bing Crosby, Ali McGraw, and Clark Gable, where a parent once tried to pay tuition with a Ferrari. I asked him what the biggest difference between old and new Malibu were. Not much. "People are in more of a hurry," he offered.
To be sure on the way out of Malibu last weekend, heading north on PCH, I hit traffic near Cross Creek, close to the Malibu Lagoon. Surfrider Beach was still reasonably full, the sun was still out, and no accidents had occurred. Twenty minutes later, the cause was revealed: the choked parking lot of Nobu and Little Beach House. It was 5 P.M. on a Sunday, after all.
A Visual History of Celebrities in Malibu
It girl actress Clara Bow on Malibu beach, in boxing gloves.

Hulton Archive/Getty Images
Paul Newman walks on Malibu beach during a film shoot.

Bettmann
Roddy McDowall shades himself from hot Malibu sun while starring in "Planet of the Apes" for CBS.

Bettmann
Maurice Evans, Charlton Heston, Linda Harrison in "Planet Of the Apes," shot on Malibu Beach.

Moviestore/REX/Shutterstock
Frank Sinatra and Jacqueline Bisset in Malibu.

Praturlon/REX/Shutterstock
Al Freeman Jr, Frank Sinatra, Tony Musante in "The Detective," 1968, shot in Malibu.

Fox/Kobal/REX/Shutterstock
The band Buffalo Springfield poses for a portrait on a deck overlooking the Pacific in1967.

Michael Ochs Archives
Douglas Fairbanks Jr. and his wife, actress Joan Crawford, sitting in a beach chair.

Edward Steichen
Zachary Scott and Joan Crawford shooting "Mildred Pierce" in Malibu in 1945.

Bros/Kobal/REX/Shutterstock
Cher and Josh Donen at Madonna and Sean Penn's wedding in Malibu on August 16, 1985.

Barry King
Andy Warhol at Madonna and Sean Penn wedding.

Barry King
Goldie Hawn at a benefit in Malibu, 1986.

Ron Galella
FRANCE – JUNE 24: Alain Bernardin and Lova Moor in "Crazy Horse" in Paris, France on June 24, 1985. (Photo by Daniel SIMON/Gamma-Rapho via Getty Images)

Daniel SIMON
Heather Locklear in Malibu.

Barry King
Pamela Anderson poses on Malibu Beach in 1992, during her "Baywatch" heyday.

Barry King
Beyonce shooting a music video in Malibu in 2009.

Philip Ramey Photography, LLC
Related: Are Hotels the New Art Museums? Inside the Latest Arms Race Shaking Up the Art World