Watch the First Mamma Mia! Here We Go Again Trailer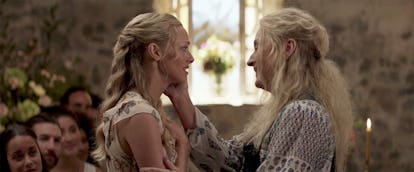 Universal Pictures
You can dance, you can jive, or you can sit down and watch a magnificent trailer featuring the songs of Swedish megagroup ABBA.
That's right! The first trailer for Mamma Mia! Here We Go Again, the sequel no one knew they needed, is finally here. And it looks like it's going to be a perfect escapist romp just in time for summer 2018. For those unfamiliar with the joys of the original Mamma Mia, the show began as a musical and was then turned into a film starring Meryl Streep and Amanda Seyfried as Donna and Sophie, a mother-daughter duo living on an island in Greece. As Sophie plans her wedding to Sky (Dominic Cooper) she invites the three men who could possibly be her father (played by Pierce Brosnan, Colin Firth, and Stellan Skarsgård) to the wedding. The whole thing is set to the non-sensical lyrics of Swedish pop sensation ABBA.
The Mamma Mia sequel will do double-duty by updating us on what's going on with Sophie and Sky as they announce their pregnancy to family and friends on their Greek island, as well as turning back time with flashbacks to see how Donna (Lily James as the younger version of Streep's character) made her way to the island to begin with. And don't worry, the three daddy hunks will be there, back in the present day, as well as dancing queen Cher as Sophie's feisty grandmother. (Yes! Cher!)
Suspiciously missing from the trailer, though? Streep herself, which is making people question whether her character was killed off for the sake of a "full circle" narrative. (Note the various clues in the trailer, such as Sophie saying she doesn't know how "to do this by myself" or only referring to Donna in the past tense.) Though it seems only time will tell if we'll actually be saying farewell to this mamma (mia).
See that girl, watch that scene in the trailer below, as it'll be a while until it finally reaches theaters — July 20, to be precise. My, my, how can you resist this!