Manish Arora's Fantasyland
Fashion gets a jolt of whimsy courtesy of Indian Designer Manish Arora.
---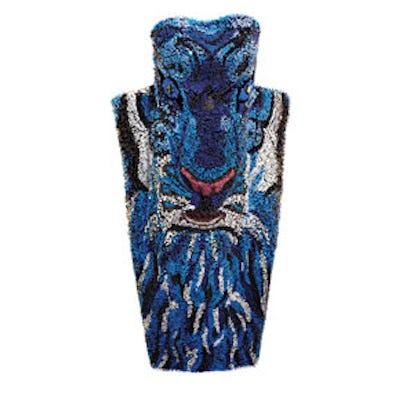 Log on to Manish Arora's Web site and you're greeted with two options: "Enter Site" or "Manish & Fish." The former guides you to the designer's expected home page, while the latter sends you on a cartoon trip. Arora chases a plump-lipped goldfish. The goldfish chases Arora. Someone screams. A monster growls. The goldfish falls in love with a mermaid who turns out to be Arora in disguise. It's wacky, weird and highly engaging.
The same can be said for the Indian designer, who for the past two years has been showing his exuberant creations during Paris Fashion Week. Nowadays such candid kookiness is rare on the runways, which made his fall 2009 collection, revolving around an animal kingdom inspiration, all the more refreshing. There was a beaded top patterned after a cross section of an ant farm, little orangutan- and gorilla-shaped purses and a dress that sprouted a 3-D reindeer head. The pièce de résistance, though, was a frock covered in orchid appliqués, their petals opening and closing on model Angela Lindvall as she came down the catwalk. "I try to go one step further with every collection," says the Mumbai-born Arora, noting that Lindvall, a favorite model of his, opened his spring 2009 circus-theme show in a bustier dress equipped with a moving carousel. "You had to move that by hand," he adds. "The flowers this time, they were battery operated."
To say Arora, who launched his line in 1999, has a flair for the theatrical is an understatement. But while critics and fans have come to expect the outrageous from him, the designer says that wasn't always the case. "Once I started showing in Paris," he notes, "I realized I could go all the way creatively." He also focused on building his business, and thus four seasons ago he started to bolster his commercial offerings, adding to the mix, for example, fanciful jungle prints inspired by his animal appliqués. "I'm trying to find a balance between what's commercial and what's fantasy," says Arora, who now has four stores in India and sells to more than 80 retailers, including Maria Luisa in Paris and H. Lorenzo in Los Angeles. In 2001 he spun off a sportier secondary line, Fish Fry—hence the cartoon-fish fascination.
"Manish opened India's eyes about how to design," says New York designer Prabal Gurung, a longtime friend. "Fashion there was about saris and the traditional." That isn't to suggest Arora has turned his back on his heritage; he thanks his roots for his love of vibrant, unrestrained color. "As a child, you see women on the street wearing red, yellow, blue, green, orange, all in one garment," he says, adding that he relies heavily on Indian embroidery and craftsmanship.
Indeed, for all the obvious shock value in his clothes—bouncing clown appliqués, epaulets in the shape of lion heads—it's the meticulous handwork that most distinguishes his designs. One blue dress for fall features a colossal tiger's face. It's covered in dense piles of sequined strands, almost 18 pounds in all. "I had 15 people working on it," Arora says. Another frock boasts tiny hand-cut, hand-applied squares of silk worked into a pixelated pattern of Simba from The Lion King. (More-commercial variations sport Simba prints.) In fact, Disney is just one of a number of companies with whom Arora has partnered. Others include Reebok (candy-colored kicks and clothes for Fish Fry) and MAC (Kiss Manish lipstick, Going Bananas eye shadow).
"The basic idea of my clothes is that you should be happy," he says. "It's really about escaping and belonging to somewhere else. When I make these clothes, I disappear in a world which doesn't exist. So why not?"