Marc Jacobs Was Happy to Get Slapped for Another Brand's Campaign
Anything for Charlotte Rampling.
---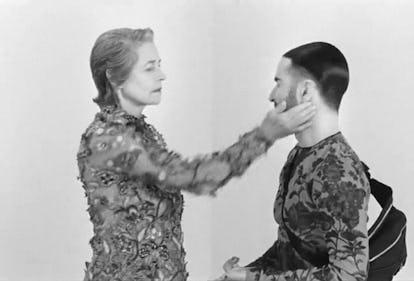 Courtesy of Givenchy
It's not every day that one of the fashion industry's most prominent designers promotes another brand's latest campaign. But on Tuesday, Marc Jacobs seemed more than happy to promote Givenchy's new ad for spring/summer 2020 on his personal Instagram feed. After all, Givenchy had gone a step further: The house had not only cast Jacobs in its campaign, but even christened the designer and his costar, Charlotte Rampling, "the iconic Givenchy couple."
Jacobs and Rampling aren't exactly modeling; in fact, you can barely see their clothes. "I am Charlotte Rampling," Jacobs says in the first clip. The next time we hear his voice, it comes from Rampling's mouth: "I am Marc Jacobs," she responds.
https://www.instagram.com/p/B73awkYoLtg/
In another clip, Jacobs, wearing an oversized fanny pack, ticks off his fingers: "You are Charlotte Rampling, you are Charlotte Rampling, and you are Charlotte Rampling." Rampling, on the other hand, maintains her silence; instead, she responds by slapping Jacobs in the face.
https://www.instagram.com/p/B73alSGId8z/
Fret not: Jacobs is just fine. "I had THE BEST TIME! I love Charlotte, and would get slapped by her anytime!," he commented on Givenchy's Instagram, taking care to thank the house's artistic director, Clare Weight Keller. (It's worth noting that Givenchy and Jacobs's eponymous brand are owned by the same parent company, LVMH.)
The final clip offers a bit more in the way of clues as to what, exactly, the pair is doing: practicing a technique from the Meisner program. (As Sam Rockwell once helpfully explained to W, it's essentially "Jedi training for actors.) Specifically, Jacobs and Rampling are practicing the Repetition Exercise, in which two actors sit across from each other and respond to each other by repeating a phrase. The more they repeat it, the more it loses its meaning. By reflecting each other's tone and intensity, the actors instead focus on their underlying emotions (and therefore, the theory goes, acting more authentically).
For example: "I am Charlotte Rampling," Jacobs says. "I am Marc Jacobs," Rampling replies. After Jacobs introduces himself as "Marc Rampling," and Rampling as "Jacobs Rampling," they run through every combination of their first and last names. Getting increasingly indignant, they shout over each other until Jacobs stumbles over his words. (The final word he says is "lambchop.")
https://www.instagram.com/p/B73ay1Ho3Bw/
This is new territory for Keller, but not for Givenchy. Under the helm of her predecessor, Riccardo Tisci, the house memorably cast none other than Donatella Versace for a campaign in 2015. The official Versace house Instagram even promoted it on their Instagram, leaving it to Donatella to do the explaining: "I believe in breaking rules," she wrote in the caption. "Riccardo Tisci is extremely talented and above all my dear friend. We are family. I want to get rid of the old system, work together, support each other and make fashion a true global community." (Tisci returned the love in an Instagram of his own, calling Donatella "a personal muse of mine, my one and only.")
Since moving on to Burberry, Tisci has pulled a similar move: In 2018, he tapped the photographer David Sims to shoot Vivienne Westwood and her husband Andreas Kronthaler wearing Burberry's signature vintage check. Technically, the campaign was for Burberry's collaboration with Westwood, but it sounds like Tisci was open to casting her anyway. "She is a rebel, a punk and unrivaled in her unique representation of British style, which has inspired so many of us," he said in the campaign's press release, which was devoted to piling praise on his colleague.
Related: Naomi Campbell Wears the Same Marc Jacobs Look From His Perry Ellis Grunge Show 25 Years Later