The Making of Marc Jacobs's Spring 2017 Set
Go behind the scenes with set designer Stefan Beckman, who created Marc Jacobs's "Blade Runner"-inspired club night at the Hammerstein Ballroom.
---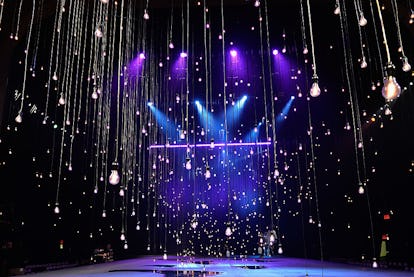 Patrick McMullan via Getty Images
Over the course of 12 years and 20-plus shows, set designer Stefan Beckman has helped Marc Jacobs transform his runway shows into epic affairs, by creating locations inspired by everywhere from Diana Vreeland's apartment to the Yellow Brick Road. That – along with, of course, the clothes – has cemented the show's status as New York Fashion Week's reliable grand finale, even if this season it came at 2 p.m. sharp instead of the traditional 6 p.m.
The time wasn't the only change this season: Jacobs also shifted from his usual location, the Park Avenue Armory, to a new one, the Hammerstein Ballroom on 34th Street, a three-tiered, turn-of-the-century opera house-turned-rock venue that also hosts wrestling events. "The Armory is a blank, blank canvas for us, we kind of do whatever we want. But with this, we had limitations," Beckman said, twenty four hours before the show.
This season, Jacobs wanted to embrace those limitations, rather than work against them, and so Beckman transformed the Hammerstein Ballroom into a steamy, sweaty nightclub that appeared to be raining light, thanks to 1,500 strands of dangling light bulbs; smoke, fog, and dry ice machines; and scattered puddles of glycerin. "It wasn't like we reinvented the theater – you know, we did that a couple seasons ago at the Ziegfeld," Beckman said, referring to Jacobs's first foray outside of either the Park or Lexington Armories in ten years, a drama-filled extravaganza at Midtown's Ziegfeld Theatre, complete with a red carpet, playbills, videos, and popcorn.
This strategy worked perfectly for Beckman, who also did the sets for Coach and Baja East this season. But while Coach's spooky, vintage car complex took months to create, Beckman and Jacobs only started planning a couple of weeks ago, with install teams finally getting into the space over the past few days. Once inside, they decided to work off the theater's existing stage before realizing that it was too high for the audience. They solved the problem by raising the entire floor by a foot.
The night before the show, a crew of dozens stayed away, painting the runway with an asphalt finish to look wet. In fact, it was the opposite, creating a sturdy, gravelly surface for the models' shoes – like last season, combat boots and Mary Janes that tower atop six-inch platforms. "Marc didn't want a straight runway, because he didn't want any sharp turns for the girls," Beckman added of the stage's curved shape.
Already hanging were 1,000-plus light bulbs, which twinkled at the beginning and end of the show in an homage to Yayoi Kusama's "Infinity Room," and orange and red meandering spotlights that left the stage awash in purples and blues – blending the dark, rainy setting of "Blade Runner" with its gritty, underground club scenes. ("You don't want to design for Instagram," Beckman said, while simultaneously acknowledging the thousand-plus light bulbs would no doubt be a hit on social media.)
Though striking, they, too, created challenges for Beckman: While some of the lights hung from the theater's upper balcony, others hovered just inches above the floor and could have easily gotten tangled in the piles of pastel-colored dreads Guido Palau applied to the models' heads. To accommodate the oversized hairstyles, Beckman shortened some of the lights to create a path for the models without changing the aesthetic.
"Marc knew we didn't have a lot of time, so we kind of kept it simple," Beckman said, while hundreds of people scurried around him, making last-minute touches. "Simpler," he corrected himself with a laugh.
Watch W's most popular videos here: