March 2016 Editor's Letter: Stars and Stripes
W's editor in chief on the American Dream.
---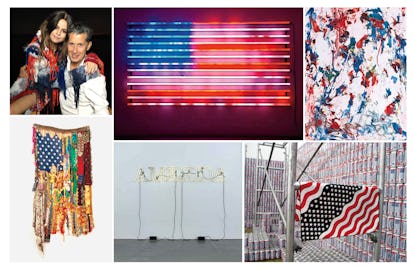 On my way to the Golden Globe Awards in Los Angeles ____ a few weeks ago, as I waited in traffic to get through the military-like security checks, my car was mobbed. On one side, people were waving pro-life signs, preaching their love of Jesus and warning anyone who would listen about the sinfulness of the nominated films. On the other side, Hollywood fans, many of them teen­agers armed with their standard-issue iPhones, were proclaiming their adoration to the rather different gods and goddesses who were about to step onto the red carpet.
Freedom can be an incredibly abstract concept, but I thought this episode reflected a simple and tangible reality: Everyone was voicing his or her beliefs. America is not a perfect place, and the American Dream—whichever version of it you choose to believe in—is not a reality for most. Still, I feel very lucky to live in a time and place in which I'm able to choose who I want to be and what I want to believe in.
At the risk of sounding pretentious in a politically charged year, for our March issue we decided to celebrate a renewed sense of American optimism. A welcome by-product of the digital revolution is that young people are experimenting with identity and image in order to stand out rather than fit in. Notions of gender, religion, status, and self-presentation are all suddenly up for grabs.
No one embodies this spirit of freedom better than our cover star, Selena Gomez ("Liked by Many"). Her transformation from a one-note Disney sweetheart into a multifaceted woman mirrors the emotional voyage of a whole generation of young Americans trying to steer clear of stereotypes. In her candid interview with the writer David Amsden, Gomez talks about her much-scrutinized relationship with Justin Bieber, the pitfalls of growing up famous, and her highly strategic use of social media.
Redefining American values in a globalized world is the challenge that Stuart Vevers has gamely embraced as the creative director of Coach, one of the most beloved American accessories brands, which is making a transition to full-fledged fashion house ("U.S.A. All the Way"). Holly Brubach met Vevers over several weeks and discovered that the British designer isn't one to simply play by the book. "I'm not interested in making a lesser version of European luxury," he told her. "Maybe the old codes aren't relevant anymore."
That healthy feeling of defiance also permeates our fashion portfolios. Inez and Vinoodh paid tribute to a group of chic women who helped move the fashion needle ("Free Spirits"); Mario Sorrenti explored a freewheeling mix-and-match type of glamour that's making a serious comeback ("Dressed to the 90s"); Jamie Hawkesworth traveled to Detroit to document the city's street-style scene ("Hella Fresh"); and Matthias Vriens-McGrath captured an entirely different kind of clotheshorse in Aspen ("High and Arty"). What's striking about these stories is how different—and yet how coherent—they all feel. The spirit of America, indeed.