March Horoscopes: The Astro Poets on What's Next Post–Mercury Retrograde
Twitter's favorite astrologers say it's time to make some major plans.
---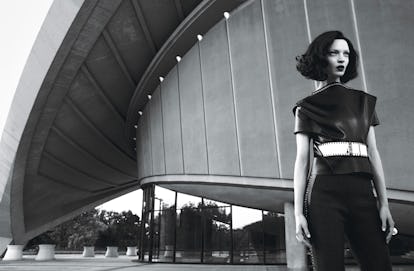 Photographer: Emma Summerton Stylist: Edward Enninful
Mercury will turn direct on March 9, and that's the date to wait for if you're looking to make major plans. It's also when the Virgo full moon arrives and, as you can see in your March horoscope, you can trust there will be a more stable and pragmatic energy coming in. The chaotic emotional space this retrograde has unearthed may persist until the middle of March for a lot of us, especially in terms of our friendships. The new moon in Aries on March 24 will be a vital push into spring. You will feel like you actually want to get back to doing the work! The work of getting your entire life right, of course.
With you in the stars and on Earth,
Aries
Something you have been planning for a long time will demand your full attention and energy. There will be a shift in March from the personal worries you've been navigating to a more business-minded outlook. You'll need to remain focused and tough, disciplined and vigilant. There are professional opportunities ahead that will keep you working long hours now, though not for nothing. Know that there is a big and bright light at the end of the tunnel. And besides, it's definitely not the time to go out every weeknight and nurse a hangover at work throughout the day. Use every opportunity before summer to ambitiously fight for your dreams. It will be worth it.
Taurus
These days, you have an even stronger fighting spirit than usual. Whether it's a cause or a conviction that has inspired you or just the desire to protect a friend, your ability to argue for something will be heightened this month. Old friends will emerge as being more integral to your current everyday than ever before. You will look to get support from them emotionally, and possibly financially. Related to this, there is some immense luck in the financial part of your life. Now would be a good time to set your sights toward the future. Although you are always carefully planning, now is the right time to set down even deeper roots and begin the process of holding on to forever.
Gemini
You will be full of ideas at work and in your creative life. You might even be overwhelmed by all the things you want to do and have energy for. Time will be an issue. March is a good month to consider whether you're devoting enough time to the things that are actually important to you. Geminis are adept to dreaming up their ideal life, but often they get caught up in all the detours along the way (giving them a sort of, shall we say, "chaotic" reputation). Make lists. Don't dwell on what's already happened. What's ahead is something you've been dreaming of for a long time. So manifest it. You absolutely have those powers.
Cancer
You have been waiting for something for a while, and now is the time for it to appear. It will seem like magic when all of your stress on the matter quickly dissolves. Likewise, that which you fear won't be as bad as you might have expected. Still, you will have strong feelings about everything happening, even the good outcome. Through all of this you will rely on your immense inner strength, which will get your through these emotions. In terms of love, plan something extremely romantic to do for at least a few dates this month. Your partner will thank you for it, but more than that, you will feel like you are doing something productive.
Leo
You may be feeling extra sensitive in terms of your expectations from your close friendships this month. There will be a miscommunication that has the ability to derail you and your stability, which you've been building slowly since the beginning of the year. Though you're often coy, you know how to be direct. And directness will help lead you out of the vast emotional arena that's March. Be upfront about what you value and how you tangibly see that manifesting in your relationships. Don't be afraid to praise others, and to also correct them when you feel like they're wrong. Though your bossy side often gets you in trouble, it may be of use this month. Lean into it.
Virgo
It has been a while now that you've known what you really wanted. And if what that is is a sort of freedom, well then so be it. Some people in your life may not know how to take this side of you and may push back. But the right people will understand the wide ways you approach living and to always give you your own distinct sort of emotional space. Decisions about the future of work may be put on hold, but still, things will be stable and fine. Some long amount of time near plants and the natural world will do you good this month. Remember: You are in charge of your future.
Libra
If your vices have been looming large throughout this Mercury retrograde, consider spending more time alone. You will need a quiet mind to deal with everything March will throw at you. It won't be easy. At work you will encounter obligations that take up a lot of time and energy, more so than usual. And your friendships (especially with water and fire signs) will be tested. Try to remain graceful and in pursuit of equilibrium as you are on your best days. The cold will pass. So will the speed with which life is hitting you right now. There will be one very cold day this March on which you'll receive insight from a place you never imagined. The cold is metaphorical. The insight won't be.
Scorpio
Big projects are on the horizon, and you will spend a good bit of the month working on them diligently. You stand to gain greatly from the careful work you do now, so don't worry if it takes more time than you promised someone. This is all part of your path, which you understand completely. Relationships may be put on the back burner, particularly in the love arena, as you continue to work toward personal growth. Some people will be happier than others about this new reality. Most of all, at times you might miss being social, so try to hit the party scene at least once this month or go on a long walk with your true love.
Sagittarius
The first two months of the year were a restless time for your spirit. March will bring you focus and strength. Maybe you won't be exuding that energy to the outside world, but it's somewhere within you. It is powerful—like the bow and arrow that symbolize your freedom and fearlessness. If you find yourself being more reclusive, don't panic. Don't try to fight it, either. This month, you will be gathering strength for what may be a new beginning right before summer. It may involve travel or movement in some shape. While you'll have to stay put in the meantime—which isn't your favorite thing—remember that you're moving even in stillness. Keep a secret. It's what you do well.
Capricorn
The idea of travel may really entice you, as you start to dream of life in other places. Part of this could be that you feel bored at times of the everyday. You feel this way now, but no one in your life would ever know it as you have been consistent with others just as you always have been. Still, parts of you need at least the idea of the open road to survive and you may make plans to go chase it in the near future. Let yourself have this dream as fully as you need to. It will inspire new avenues in work and may lead you to new job prospects or a promotion.
Aquarius
You've been yearning for independence and love at the same time. It's hard for you to reconcile how both can work out. Don't spend your energy fighting for one or the other. Allow March to teach you that everything you're attracted to will also be attracted to you if it's real. You may be gripping the steering wheel a little too tight. There's having a sense of direction, but there's also forcing direction out of nothing, out of thin air. You're a sign that doesn't believe in outward sentimentality or follow rules easily. Give yourself a day this month where you make no plans. Where you let something happen to you. You may have to leave your own house.
Pisces
You will be feeling protective of yourself and want to take some alone time when the mood strikes you. This may lead to a slew of canceled plans, but don't worry too much about people's feelings about this. This is easy to say, as you do spend much of your time worried about others' emotions. Still, this month, listen to what feels right and follow that. There may be career prospects in your dreaming life so listen carefully there, too. Maybe March is the right month to finally get a dream journal. Share the dreams you remember with the person you love the most.
Related: Which You Character Are You, Based on Your Zodiac Sign