Inside the Marciano Art Foundation, the L.A. Celeb Magnet Where Showing Up With Sharon Stone is "Performance" Art
The Los Angeles art world just got a lot starrier.
---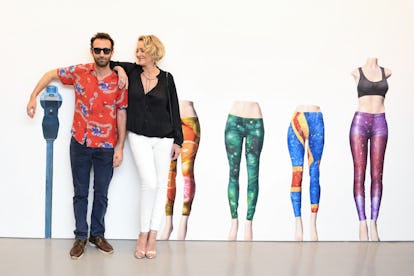 Billy Farrell/BFA.com
Those old-school L.A. stereotypes of a sun-drenched, celebrity-obsessed culture have made room for its new look as an art hub to rival New York. And the Marciano Art Foundation, the new private museum of the Guess denim mogul brothers Paul and Maurice Marciano, wants the best of both worlds
The splashy museum announces its preoccupations outright. At the grand inauguration this weekend, the space on Wilshire Boulevard opened two exhibitions: Jim Shaw's back lot-size "Wig Museum" and the collection show "Unpacking," announced in the lobby by an untitled David Hammons work, of a white fox fur coat spritzed with a rainbow of spray-paint. The museum, 110,000 square feet, four floors, and more than 1,000 works in the collection, does not have small ambitions.
The building itself has a long, storied history: built in 1961 by Millard Sheets, the massive travertine Scottish Rite Masonic Temple housed a 2,000-seat auditorium, since the upper degrees of Masonry were given in the form of elaborate plays with sumptuous costumes, wigs, and set design. In the 1990s, it housed the National Guard during the L.A. riots, then had to be abandoned in 1994, too expensive for the Masons to keep. The Marciano brothers purchased it for $8 million in the early 2010s and had it retrofitted by the art world architect Kulapat Yantrasast, keeping much of the original architecture, including eight massive guard statues on the façade.
In the early 1980s, the Marciano family's Guess stores pioneered sexy denim and lascivious ad campaigns, and initially set up shop in L.A.. "We used to put wax on the zippers!" a giddy Maurice recalled at the opening, in between banter with Owen Wilson. The crowd inside, too, was a true mix of the art world and Hollywood.
Mohammed Hadid, father of Gigi Hadid, who was discovered by Paul Marciano when she was two, could be seen mingling under manga Takashi Murakami sculptures, while elsewhere David Foster talked with the Marcianos. Meanwhile, in their own realm of this scene, Jeffrey Deitch could be found chatting with Kim Gordon and Jeff Koons about the early days of Larry Gagosian as a poster salesman in Westwood; the curator Paul Schimmel, whose alliance with Deitch during his tenure as director of L.A. MOCA did not end happily, roamed around as well. And then there was everything in between: While gawking at a massive Jim Shaw set piece, I collided with a tuxedo jacket-clad Ryan Seacrest. Elsewhere, the artist Alex Israel posed hammily with Sharon Stone next to his mezzanine-size wall commission Valet Parking (2017), a trompe l'oeil of parking signage, meters, and mannequins in yoga pants, next to a room of Masonry artifacts.
Israel asked Deitch, the latter said after the party, how he liked his "performance," referring to his choice of date. When I asked an L.A. dealer if the two were attending together, she rolled her eyes and offered, "They're optically together."
"It's insane," Noah Horowitz, the director of Art Basel in the Americas, said simply of the space; Marc Spiegler, his boss, opined more broadly: "L.A. is a place you just have to go. You can't ignore it now."
Calling all those interested in getting this city a decent art fair.
Nearby, a group of L.A. art insiders less-than-privately murmured among each other about how much, well, more the museum was than the Broad, both in terms of space and accessibility, and friendliness to artists. "I've never even been," the photographer Elad Lassry admitted. Eli Broad himself was there, perhaps checking out the competition.
Jim Shaw waxed poetic on the significance of an L.A. mega-museum. "There was no art world to spare" a few decades ago, he said by way of reminder. And now, "Can you think of a space this big?" Shaw asked rhetorically. Indeed, the actual square footage rivals that of MOCA, with far more forgiving ceilings.
Phillipe Vergne, the current director of that museum, hinted at pangs of envy about the Shaw presentation. "We don't have the room!" he admitted.
"More is more," Vergne added. "And more is Maurice."
See Gigi Hadid and Kendall Jenner recreate four pieces of iconic performance art: