Margaret Atwood, 77, Continues Takeover of Streaming TV with Alias Grace Trailer
The author's second TV adaptation this year is coming to Netflix.
---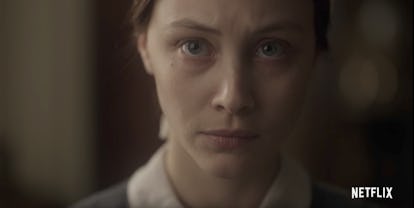 Who knew that Canadian novelist and Booker Prize winner Margaret Atwood would be one of the key winners of the era of peak TV? Yet, here we are. The Handmaid's Tale, Hulu's adaptation of her 1985 novel, is up for a staggering eleven nominations at the Emmys. Now, Netflix is set to get into the Atwood game as well with a mini-series adaptation of her 1996 novel Alias Grace. The streaming service dropped the trailer for the project ahead of its November 3rd debut.
In fact, aside from the Atwood connection, the series checks a lot of boxes on current TV trends: it features a strong female cast and, unlike Handmaid's dystopian future setting, focuses on a true crime story from the past.
The story is based on the real life murder of Thomas Kinnear and his housekeeper Nancy Montgomery in Canada in 1843 by two of Kinnear's other servants, maid Grace Marks and stablehand James McDermott. Atwood added a fictional twist by inserting a doctor who examines the case and gets a little too involved trying to figure out how the quiet Marks could be responsible for the grizzly murders.
Sarah Gadon plays the titular Grace while Edward Holcroft plays the doctor. Anna Paquin guest stars as the murder housekeeper. Zachary Levi and Kerr Logan are also part of the cast, while director David Cronenberg also pops up in an unspecified part (incidentally, Gadon is a frequent Cronenberg collaborator).
Actress-writer-director Sarah Polley wrote the script, while American Psycho director Mary Harron directed all six episodes. Fun fact: Polley, Harron, Gadon, Paquin, Cronenberg, and of course Atwood are all Canadian.
Despite its domination of scripted series and its increasing moves into the feature film world, Netflix has curiously so far not been a major player in miniseries. It seems that Alias Grace is one of a handful of upcoming series that will change that. The service also has the Jeff Daniels-starring Godless and documentary-fiction hybrid mini-series Wormwood starring Peter Sarsgaard on tap.
Meanwhile, this may not be the last Atwood adaptation we see in the near future. Mother! director Darren Aronofsky has been working on an adaptation of a series of Atwood novels kicked off by Oryx and Crake. At one point HBO was onboard, but has since pulled back. Aronofsky, however, says that all scripts are written and the series is still in the works.
Related: Margaret Atwood, Elisabeth Moss, and the Women Behind the Disquietingly Vital The Handmaid's Tale