Margherita Missoni Loves Her Grandma's Style, Wearing Headpieces
The fashion designer shares a page from her style notes.
---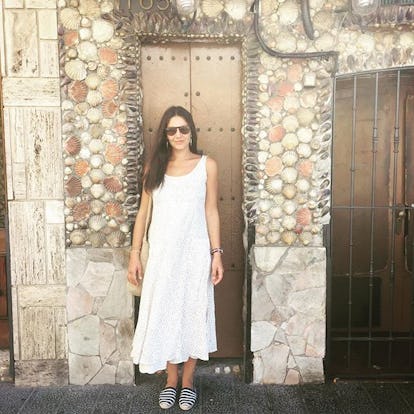 Margherita Maccapani Missoni Amos is true fashion royalty. As the granddaughter of Ottavio and Rosita Missoni, who founded the Italian fashion house in 1953, and the daughter of Angela, who currently heads the brand, it's no surprise that Margherita earned her own stripes. She has launched her own line of kid's clothing—and has, over the years, acquired a dreamy personal wardrobe. Here, the fashionable heiress shares her favorite stores, style pet peeves, and style icons.
Define your style in three words: Classic, distressed, passionate.
Daily uniform: Tailored pants, a t-shirt, sweater, small hoop earrings, a bunch of rings, and a thin neck chain.
Greatest hits: YSL vintage trench coat, red Margiela crew neck sweater, Valextra crossbody mini pouch, black American Apparel high-waisted spandex pants, and black Tod's lace-ups.
Preferred footwear: Lace-ups, slippers, moccasins, flat sandals, and espadrilles.
Finishing touches: Headpieces (but, in general, I dig every kind of jewelry).
Nighttime look: Pencil skirts, high-waisted wide leg trousers, silk blouses, belts, and high heels.
Best recent discovery: Society bed sheets.
Favorite stores: Spazio Rossana Orlandi (design, Milan), Antonella Veronesi (antique jewelry, Milan), De Vera (New York), Nilufar (design, Milan), Manolo Blahnik (New York), Taschen (Milan), FD Gallery (New York)
Style pet peeve: Embellished UGG boots.
Style icons: Deeda Blair, Rosita Missoni, and Marilyn Monroe.
Last purchase: A 3.7m large trampoline bought online one hour ago (it's 11 p.m. here) for Otto's birthday.
Lusting after: Travelling without plans or agendas, ideally in Asia.
Favorite haunts: Latteria di Via San Marco in Milan, Atelier de Robouchon in Rue du Bac in Paris, Boom Boom Room in New York.
What's always in your bag: My iPhone, iPad mini, NUXE Reve de Miel lip balm, MAC cream blush in a pink shade, headphones, and a pacifier.
Photos: Margherita Missoni Loves Her Grandma's Style, Wearing Headpieces
Nighttime look: vintage blouse, Manolo Blahnik heels, Alaia knit lace skirt.
Preferred footwear: Dolce and Gabbana flats, Charlotte Olympia sandals, and adidas sneakers.