Margiela's North Face Collab Will Have You Looking Like a Chic M&M
MM6 Maison Margiela put a conceptual spin on the classic paneled jacket, which now resembles a sleeveless cape (and knee-length dress).
---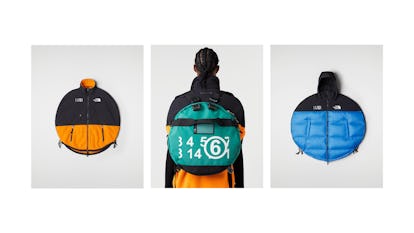 Courtesy of MM6 Maison Margiela
In the summer of 2016, Vetements collaborated with no fewer than 18 mega-brands in a single collection, from Hanes to Levi's to Juicy Couture. It was hardly the first time that suburban staples got the high fashion treatment. But more and more such collaborations have popped up ever since—especially with footwear brands popular in the early aughts. (See: Balenciaga x Crocs, Eckhaus Latta x Ugg, and Proenza Schouler x Birkenstock.)
But it wasn't until this week, with the launch of MM6 Maison Margiela x The North Face, that a ready-to-wear collaboration nailed the intersection of practical and chic. The former started, of course, with the omnipresent North Face paneled jacket, first by embroidering its logo to the left of the wearer's chest. But below what we now think of as the Zoom call level, things start to get weird. The classic Denali jackets, for example, have zippered arm holes instead of sleeves. So do the Himalayan Parkas and Mountain Jackets, which are insulated with recycled down. Simply put, each of their circular silhouettes make the wearer resemble an M&M.
The other Denali jacket requires even more daring; it isn't so much a jacket as it is a recycled fleece, knee-length dress, complete with a cinched back.
In addition to the outerwear, there are also circular backpacks and clutches that resemble oversized frisbees. There's a giant scarf that can be turned into a sort of vest with pockets. And finally, there are elbow-length mittens. In the spirit of Margiela's signature Tabi boot, the pointer finger, just like the thumb, is separated from the rest of the hand. They're the perfect accompaniment to another accessory that debuted this week: the three-toed heels that Matthew Williams revived at Givenchy, in homage to Alexander McQueen.