Margot Robbie Has Some Advice for What To Do When You Need to Pee While Figure Skating
The I, Tonya star shares her methods for peeing in a figure skating leotard.
---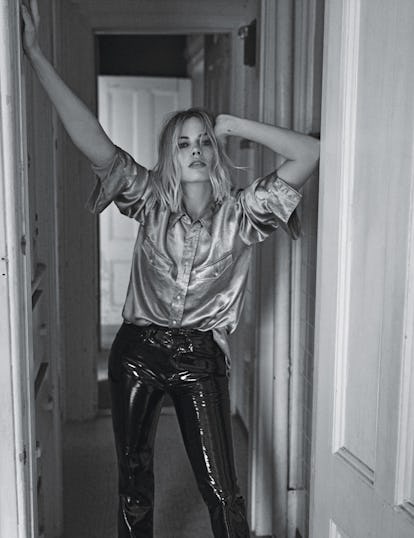 Photographs by Craig McDean, Styled by Melanie Ward
In the nontraditional ice skating biopic I, Tonya, Margot Robbie plays Tonya Harding, the former Olympic figure skater caught up in a scandal with fellow competitor Nancy Kerrigan. To prepare for the role, Robbie learned to ice skate, donning the not-so-fancy leotards similar to the ones Harding wore in real life. With all of the physical exertion Robbie experienced while training like an Olympian came some uncomfortable pitfalls: the difficulties of needing to pee while wearing a leotard.
At the I, Tonya's New York premiere Tuesday night, hosted by Calvin Klein, Neon, and 30 West, Margot Robbie said it can be "super annoying" to train and figure skate in those restrictive leotards, especially when you have to pee. When you're on the ice and you have limited time to get to the bathroom and back, attempting to remove a leotard and put it back on quickly could cause a huge mess. Her advice for anyone who finds themselves in such a predicament? Don't remove the skates. "Never attempt to take the skates off! Once they're on, just keep the skates on, and work around everything else," she said.
Perhaps that's a lesson Robbie learned from Tonya Harding herself. In an early scene of the film, a young Tonya trains relentlessly on ice as her domineering mother LaVona watches from the stands. She skates over to her mother to inform her that she needs to go to the bathroom, but LaVona tells her she has to keep skating. Tonya then skates so hard without a break that she relieves herself on the ice. Her skates remain on her feet—what else is a champion-in-training supposed to do?
Robbie's knockout performance as Tonya Harding proves that her skating abilities and leotard advice could come in handy for any of us who might enjoy a winter sport or two. She even likened her figure skating woes to the same ones fans of a different winter pastime night experience. "It's kind of like when you're skiing and you have a million layers to take off, but you keep your skates on," she said. When you have to go, you just have to go.
Related: If I, Tonya Proves Anything, It's That Margot Robbie Could Be Headed Towards Her First Oscar Nomination
Margot Robbie Is Here to Show You What Vegemite Sounds Like