Supermodel Mariacarla Boscono Loves Full Body Mud Treatments, Isn't Afraid To Try Vampire Facials
The Italian supermodel and mother reveals her skincare essentials, her haircare must-haves and her favorite spa in Italy.
---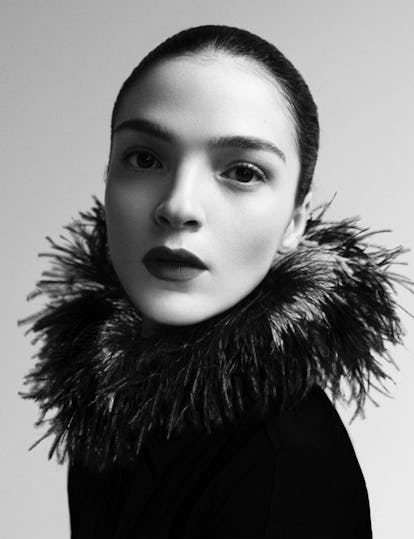 Photographed by Willy Vanderperre. Styled by Olivier Rizzo.
Just last week, Italian supermodel Mariacarla Boscono celebrated her twenty years in the business, but the 37-year-old model and mother is still very much a runway regular, making fashionable appearances on the Chanel and Versace catwalks this season. And as the face of Borghese skincare, Boscono definitely knows a thing or two when it comes to beauty. From her favorite skincare essentials to her haircare must-haves, here, the model shares her off-set beauty secrets, her favorite makeup artists to work with and where you can find her relaxing in Italy.
Your look:
Super cool, of course. Goth. Italian. Mother. Easy.
Beauty essentials:
Happiness, and some good beauty stuff like Givenchy Black Serum and Hydraceam.
Best advice from your dermatologist:
Drink lots of water, wash your face morning and night, and protect your skin from the sun.
Most bizarre beauty treatment you have tried:
The PRP Facial.
SPF of choice:
In the day time, I use Borghese Tinted Moisturizer. It has an SPF 20 to protect my skin.
Makeup miracles:
Most underrated product:
Palmer's Cocoa Butter.
Never leave the house without:
My one minute look: brush my hair, and apply Borghese eyebrow pencil.
A good hair day starts with:
Redken leave-in conditioner spray, and a Mason Pearson brush. It's important to switch up shampoos & conditioners. I use Kérastase and Bumble and bumble shampoos and Aldo Coppola conditioner.
Daily diet:
Nutrition is so important. My diet is Mediterranean. I eat a little bit of everything. I eat little, but very often. Eating meals with my daughter keeps me happy.
Drink of choice: Juice, followed by Champagne.
Pilates or yoga:
Product that you picked up from the pros:
Pat McGrath introduced me to crealine makeup remover. Guido Palau introduced me to Redken leave-in conditioner spray, which smells really good. When my hair was damaged and had breakage, Luigi Murenu was the one who suggested that I skip products and shave it.
Appointment you'd love to nab:
I travel so much, but am confident with the people who take care of me in Rome. I get my hair cut and colored by Michele at Aldo Coppola salon. In Paris I like Biologique Recherche, and in New York, I have a Russian lady. I have been fortunate to work with so many great makeup artists. I'm always happy when Pat McGrath, Tom Pecheux, et al. do my makeup.
Fragrance of choice:
Givenchy Dahlia Noir and Francia Novella Melograno.
Italian beauty rituals you swear by:
Terme di Stigliano. I love mud treatments all over my body.
TSA-friendly essentials:
Borghese Fango Active Radiance Facial Oil.
In-tub must-read:
I love taking baths with my daughter. If I take a bath by myself, I only need silence and candles in the darkness.
Best-kept beauty secret:
Love makes your skin glow, and your cheeks pink.
Beauty icons:
My mamma. Definite doppelgänger:
Olive Oyl from the Popeye comics.
Related: Adam Levine Is "Psyched" To Be the Face and Tattooed Body of YSL's New Fragrance
More Model Beauty Secrets: